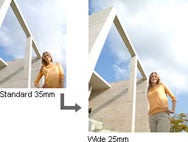 In the past two years, a new trend has emerged in point-and-shoot cameras: ultra wide-angle lenses. Photographers salivate over these 24mm equivalent wide-angle lenses because they can capture an unusually broad view, such as a sweeping landscape, a skyscraper from base to peak, or a yard full of people at a family reunion. Going ultra-wide also creates an exaggerated sense of space, which can make a living room look cavernous or a line of fence posts appear more spread out.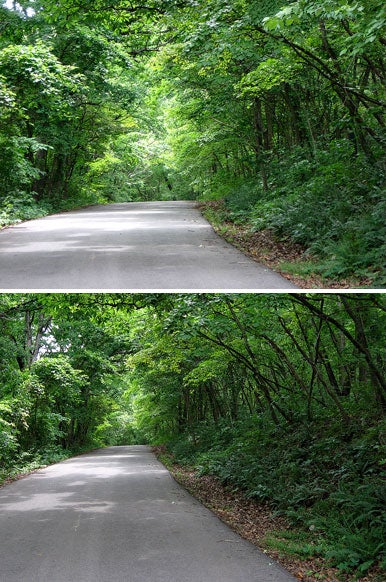 When shopping for a wide-angle compact camera, you'll see that most are advertised as having a zoom multiplier, such as 3x or 10x, but this doesn't tell you how wide the lens is when fully zoomed out. To determine the wide-angle of a lens' view, look for the 35mm film-camera equivalent focal length in the camera's specs.
A 50mm equivalent focal length is the same angle of view the human eye sees, and any number lower than that amount is considered wide-angle. Since the back of the eye is curved, people actually register more of the scene at a time, so going wider to 35mm will seem more like what the eye actually sees. As a lens goes wider and this number goes lower, each mm makes a bigger difference. By 24mm, pictures show about twice the amount of a scene as 35mm, and they can actually fit in more than the naked eye can see at one time. A lens that is 24mm equivalent or smaller is called "ultra wide-angle."
The first major camera manufacturer that started extending its point-and-shoot zoom range to the ultra-wide 24mm was Panasonic with the Lumix LX3 camera. Today, most of the big point-and-shoot manufacturers are successfully going wide.
The Samsung HZ35W, Panasonic ZR and ZS series, Casio EX-FH100 and EX-H10 models are great all-around cameras for beginning photographers. The Casio EX-FH100 (24-240mm equiv) and Samsung HZ35W (24-360mm equiv) get the nod for greater flexibility and advanced control options that encourage the user to experiment and learn about exposure.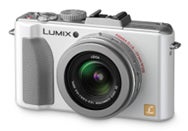 However, the bright star of the current crop of wide-angle compact digital cameras is the new Panasonic DMC-LX5. With rich, clean image quality, smart exposure controls, quick focus and shooting, and accessory add-ons worthy of a full system camera, this is the ultimate for photographers seeking a high-performing compact camera with a wide-angle lens. Its only downside is that the zoom is rather modest, maxing out at 90mm equivalent. If the LX5's $500 price tag is too steep, there are plenty of lower-priced wide-angle models that will work for casual photographers.