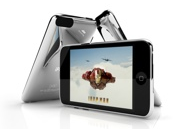 If you're placing your bets on announcements at next week's Apple event, you'd do well to heed the predictions of my colleague Chris Breen: an update to the iPod touch seems like a sure thing. That model will also likely gain a front-facing camera (and probably a rear one as well), along with support for Apple's much ballyhooed FaceTime video chat feature.
Honestly, the real question isn't whether or not the iPod touch will get support for FaceTime, but whether or not the touch's adoption of the technology will actually bolster FaceTime's usefulness and popularity.
With a few exceptions, FaceTime seems to largely be confined to the realm of novelty at present. I've used the feature a handful of times myself, but mainly for the sake of trying it out. (I did, however, give one television interview over FaceTime, which worked surprisingly well, except for my arm getting tired after half an hour of holding up the phone).
FaceTime's niche utility isn't a huge surprise: existing methods of video chat, such as Skype and iChat, haven't exactly found mass appeal yet either. (I say that as someone who spent part of his recent vacation installing Skype for several relatives, in order to communicate with a family member who's moving to Australia.) The occasional chatting with farflung relatives and friends is a nice option, but it hasn't yet precipitated the kind of revolution in communication prompted by the telephone or e-mail.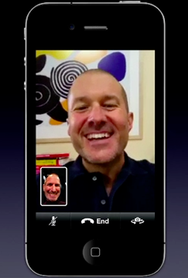 Still, the simplicity of FaceTime and the awe with which Jobs and Apple design chief Jonathan Ive demoed it on stage at this year's Worldwide Developers Conference made it clear that Apple sees this as one of the iPhone 4's most significant features, if not a technological revolution in its own right. "I grew up here in the U.S. with The Jetsons and with Star Trek…just dreaming about this, dreaming about video calling, and it's real now," said Jobs during the presentation.
During that same presentation, Jobs also promised that Apple would ship "tens of millions of FaceTime devices." It's not hard to read between those lines: both the use of "devices" and the number of units imply that FaceTime won't be limited to the iPhone 4. The iPad and the iPod touch would seem to be prime candidates for the feature, since they both run on the same software as the iPhone. The only major hold-up: neither of them currently have a front-facing camera—or any kind of camera.
Beyond that, though, there's no reason that FaceTime can't run on these devices. Jobs's onstage demo showed switching from a standard phone call to a FaceTime session, but FaceTime itself only relies on having a Wi-Fi connection (Jobs said support for cellular networks might come in the future) and you can initiate a FaceTime session without ever calling anybody on the phone.
It's clear that Apple is committed to driving adoption of FaceTime, at least for a while. The company set up a 1-800 service allowing curious iPhone 4 users to test out the feature. And Jobs himself said that the company intended to make FaceTime, which was built on an alphabet soup of standards, an open industry standard itself.
That's a smart move, as it expands the potential of FaceTime chatting beyond the Apple ecosphere. While video chatting has been around for a while in a variety of forms, even on mobile devices, it's hard to argue that Apple's solution isn't the most elegant and simple to date. Opening up potential interoperability to platforms like Android or Windows Mobile puts the ball in the court of not just Google or Microsoft, but also third-party developers for those platforms, who could conceivably write FaceTime clients on their own. While competitors might balk at adapting an Apple-backed standard, the potentially huge number of the company's popular devices which support it may force their hands.
In the end, it may turn out that most people just aren't interested in video chatting for a variety of reasons—it's hard to multitask, for example, and it can feel awkward at times. But Apple apparently intends to make sure that any failure will not be for lack of trying. Plenty of technologies take time to catch on, and there's no telling how FaceTime might change our lives once it's available to more than just the users of a single device.
64GB iPod touch (3G, late 2009)