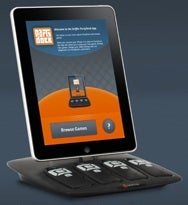 The iPad and iPhone offer a number of ways to get social while gaming, from Bluetooth or Wi-Fi fragging to split-screen, cut-fruit competition. But Griffin is looking to turn Apple's latest gadgets into all-out gaming hardware consoles with a new dock the company announced on Friday.
Griffin's upcoming PartyDock is a game and media dock for the iPad and iPhone 4. It includes four remotes and is designed to let you and your friends play games that Griffin is soliciting developers to create. Your iPad or iPhone 4 can become the gaming life of your party, or you can hook the PartyDock up to your TV to supersize the experience. Games will have to be designed or updated specifically to work with the PartyDock.
PartyDock can also send media out to your TV, and Griffin says it works great for YouTube, photo slideshows, and listening to music. It sounds like the PartyDock remotes will be able to control iOS's YouTube and iPod app, turning your iPad or iPhone 4 into the world's smallest competitor to the Apple TV and Google TV, and heck, maybe even the Nintendo Wii.
Beyond that, though, Griffin is mum on key details such as a price and ship date, though it does encourage developers who are interested in writing games for the PartyDock to get in touch. We'll get you more info as we hear it.