For keeping up on everything from Sarah Silverman's Twitter account to your college roommate's European travel blog, Idyllic Code's River of News proves to be an appealing app for iPad users. This $3 app is nothing if not simple. River of News syncs to your Google Reader account, providing an iPad-based platform to catch up on RSS feeds without any of the clutter on the actual Reader Website.
A simple color scheme of black, white, and gray makes the app visually appealing. A settings button in the top right of the screen adjusts the chronological order of the posts and features an On and Off switch for marking items as read while scrolling. The only other settings you can adjust are font and text size. A check mark button beside the settings allows readers to mark all posts on that feed as already read. These choices make the app fairly customizable while maintaining a clean, simple format.
A major part of what makes this app so appealing is its infinite scrolling ability, which is reminiscent of the actual Google Reader site. Swiping horizontally allows you to switch up the feed you're browsing, further enhancing the app's usability. Additionally, River of News offers a well-rounded variety of sharing options for each article you come across. When I found a share-worthy story or photograph, I had the option to tweet it, Facebook it, or even read it later (among other options) without even losing my place in the feed.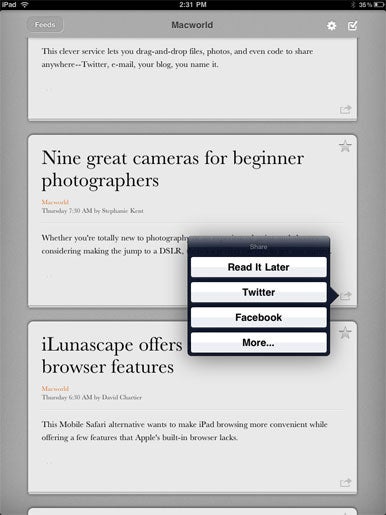 While reading The Onion, Engadget, and McSweeney's feeds was about as pleasurable of an experience as I could ask for, River of News does leave something to be desired in terms of maintaining the feed and discovering new subscriptions. Anyone with a Google Reader account is familiar with the oft-overwhelming amount of information and suggestions available on the site, so in that sense, River of News may have gotten it right. I generally subscribe to the "less is more" mentality, and therefore I'm not convinced I need the Trends, Browse, and Notes features from Google Reader. However, the app doesn't even offer the simple option to add a subscription. (Any subscriptions you add via Google Reader, however, will be added to River of News.)
Overall, River of News makes for a peaceful, organized reading experience; the ability to expand the library feed from within the app would only add to that experience.
[Stephanie Kent is an editorial intern at Macworld.]