There's no shortage of free and inexpensive advice for runners preparing to run their big race. Both beginners and experienced competitors have an overwhelming selection of books, Websites, magazine articles, and podcasts that, for the most part, can provide fairly good guidance for creating a medium-term training schedule. Local running clubs often have training groups for runners at different levels. For $50 a month or more, you can even get personal coaching, via e-mail and phone, from a variety of qualified coaches.
Runner's World SmartCoach, an iPhone app produced by Runner's World magazine and based on an almost identical tool available to registered users at the RunnersWorld.com Website, is a surprisingly strong addition to the semi-personalized training market. Based in part on decades of received wisdom and in part on modified formulas developed by famed coach Jack Daniels, the app provides a schedule of daily workouts that are designed, over a number of weeks you specify, to help you do your best on race day.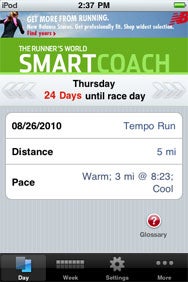 In addition to this paid version of the app—on sale for $1 at the time this review was published—there's also Runner's World SmartCoach Free. The paid version is free of ads, which are not that much of an annoyance in the free edition. You can also e-mail and print your training plan with the paid version, which promises "special offers" as well. (Note, though, that these offers aren't any different than what you'd find on the Runner's World Website.) In other words, if e-mailing your plan and having a computer-based version available is important to you, then a buck or two seems reasonable; that capability is the only significant difference between the paid and free SmartCoach offerings.
To get your training program, you first have to enter in some very relevant data, including: a recent race time, the distance of your goal race, how many miles you are currently running each week, how hard you want to train (moderate, hard, very hard, or "maintenance"), the date you want to start training, and how long you want your training schedule to be (ranging from two to 16 weeks).
The app then assembles a plan based on your inputs. The detail is impressive—it includes a variety of workouts designed to improve your speed and endurance from week to week, and includes rest days and recovery weeks. There are even suggested pace times for all workouts (i.e. 9:56 per mile or 2 x 1600 meters at 7:55 per 1600).
Beginning runners may find the jargon (tempo run, taper week, speedwork, and so on) a bit confusing—the general meanings are obvious but these terms have specific meanings for distance running. Fortunately, the app provides an excellent short glossary you can consult. In addition, the developers have thoughtfully included an explanation of how the plans have been developed, a few well-chosen reading recommendations, and some necessary caveats.
While SmartCoach can not replace a real coach, it can give both coaches and runners a very good training template. The main problem with using any preset training program is that real life intercedes—aches and pains and injuries, varying and sometimes harsh weather conditions, and a plethora of other monkey wrenches are sure to crop up. Then you'll need to adapt the plan—and in those cases, only your own good sense, the advice of an experienced coach or runner, and/or the assistance of a sports medicine specialist can be your guide.
[Jeff Merron is a freelance writer and editor living in North Carolina.]