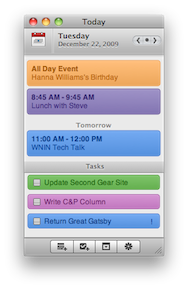 Second Gear has released Today 2.5, an upgrade to its minimalist iCal interface software. Today shows your upcoming events and tasks in a narrow window that conserves screen real estate far better than the monitor-gobbling iCal.
Today also provides one-click access to creating new iCal entries, bypassing iCal's convoluted Inspector-style windows that can make creating events seem longer than actually attending them.
Today 2.5 improves on calendar handling by allowing default calendars to be set for new events and tasks, and adds support for creating recurring tasks within Today. Various bugs have also been stomped, including some issues with MobileMe synchronization. Today 2.5 requires Mac OS X 10.5 or up, and is $25 with a 14-day trial; owners of 1.0 versions can upgrade for $15.