If you're looking for another way to hang your iPad prominently on the wall, the newly announced PadTab might be worth a look. It works on any flat surface, and lets you easily mount and remove your iPad.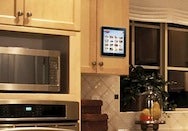 The kit includes one PadTab mount that sticks to the back of your iPad. You also get two wall tabs that bond to a wall or fridge. No tools are necessary for the installation. Unlike the recently released Wallport, which has an aluminum frame, the PadTab is literally a hanger for the iPad, so you don't see the mount. The wall tabs themselves are clear so they're relatively inconspicuous if your iPad isn't mounted there.
PadTab's makers—who describe themselves as "two longtime friends, both gadget lovers and entrepreneurs"—say you can mount the iPad even if it's in a case, though presumably it would need to be a low-profile one. Given that the makers say that the adhesive is industrial strength, it's not clear how hard it will be to get the tabs off your walls or your iPad itself if you change your mind. It's also not clear how strong the hanger is, and if it would hold up in a more seismically prone area like the West Coast.
Still, PadTab could be a quick, simply way to display your iPad and use it for nifty tricks around the house. It can be pre-ordered now for $30. The product will ship on September 3.