The iPhone and iPod touch have a wealth of options for sharing files online, whether you need a collaborative service like Box.net or a Twitter app to broadcast photos. If you want a more centralized and integrated service for sharing and managing files, Cloud2go, a new CloudApp client from Phaps, might be worth a look.
For the uninitiated, CloudApp is an aptly named service and Mac app that aims to simplify the process of sharing images, links, text, music, or other files online. Drop a file on CloudApp's menu bar item to upload it to your personal cloud storage, and a short link is copied to your clipboard for sharing via Twitter, e-mail, your blog, or just about anywhere else. If you want a simple layer of security, you can mark a file as private, which tells CloudApp to assign that file a much longer and difficult-to-guess URL.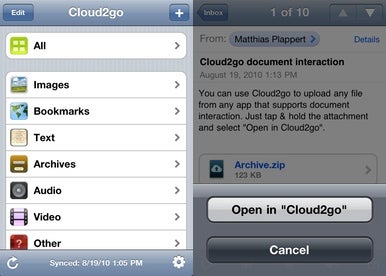 You can manage the files you share by signing into your CloudApp account online. Shared files are categorized, and you can delete or privatize a file anytime you want. You can also download plug-ins to make it easier to share files directly from within other apps, including Aperture, Firefox, NetNewsWire, Photoshop, and more.
Cloud2go for iPhone and iPod touch extends CloudApp's experience to the iPhone, complete with some useful iOS integration. You can view your shared files and their categories, copy short URLs for sharing, and upload photos and videos from your device.
The app also supports the new Document Sharing features in iOS 4 for iPhone and iPod touch, and iOS 3.2 on iPad. For example, a PDF in a Mobile Mail message can be opened in apps like Documents to Go and GoodReader. Now those files can be opened in Cloud2go for upload and sharing.
Cloud2go supports a handful of other features, including playing music files in the background and searching files. You can also upload files in the background, and when an upload finishes, an alert will sound and its shareable URL will be copied to the device's clipboard.
Cloud2go is available now in the App Store for $2. The CloudApp service itself is free to sign up for and use.