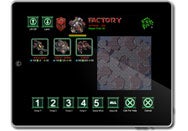 Blizzard's long-awaited StarCraft II may soon find its way to your iPhone, iPod touch, or iPad, thanks to a particularly enterprising indie developer.
Pennsylvania-based Daniel Hellerman and his team have developed StarCraft 2 Gameboard, a pair of apps that will allow your iOS device to interface with a version of the popular real-time strategy game running on Windows.
In order to use the iOS app, gamers will be expected to install a program on their desktop PC; this will in turn interface with a copy of StarCraft II running locally, providing the necessary support for the iOS app.
Once that's set up, the iOS app essentially behaves like a remote controller, providing access to all the important in-game controls through an interface that has been specially designed for touch-based devices.
The developers plan on releasing the app in mid-September. The desktop software will be free and will work with recent versions of Windows, including Windows XP, Windows 7, and Vista, while the iOS app will work on iPhone, iPod touch, and iPad and will sell for $2. There's no news on either Mac support or what version of iOS the app will require.
All this information, of course, should be taken with the big caveat that Blizzard Entertainment, which owns the StarCraft franchise, is notoriously fickle when it comes to programs that interface with its games. According to the app's website, however, Gameboard does not modify or interfere with StarCraft files, which should lower the likelihood of Blizzard interfering with its release.
[Via Kotaku]