Even as part of a simulated computer experience, being mayor of a fledgling city is no easy job. Thankfully, TeamLava's City Story makes mayoral duties at least fun and engaging by combining simple gameplay with a number of interesting social features to create a highly-addictive game.
If you are familiar with games like the ever-popular Sim City or Social City, City Story's gameplay will hold very few surprises for you. The game's premise is as simple as it is unoriginal: as the mayor of a newly-founded city, your job is to grow your population and keep them happy. To do this, you will need to get into the construction business, with housing, entertainment and business buildings all contributing to the well-being of your citizens (not to mention their numbers).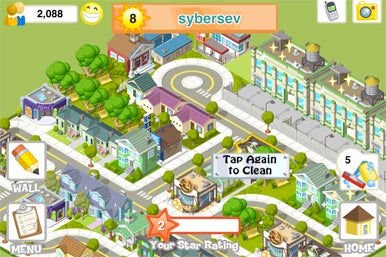 Like in real life, construction is anything but cheap, and here City Story muddies up the waters with two types of currency: in-game gold, which you can earn primarily by building factories and causing them to fulfill manufacturing contracts that range from t-shirts to vacuum cleaners, and "city cash," which can be obtained using green of the real kind through in-app purchases that can go as high as $50.
Many of the contracts take a relatively long time to complete—over one day in some cases. When they do, the app informs you via a notification that it's time to collect your hard-earned reward. Needless to say, this makes the app delightfully addictive and keeps you returning for more playtime.
Despite the lack of originality in its gameplay, City Story has a very strong set of social features. You can visit other people's cities and "clean" their buildings to gain "star points" (think of them as social-networking brownie points that help you increase your standing in the community) and help them gain experience and gold coins, or write messages on their walls. In addition, you can make other players your "neighbors," thus creating a network with which you can exchange gifts of coins.
The game's visuals are top-notch and take full advantage of the iPhone 4's Retina Display to provide a smooth and well-designed user interface. The icons and buildings are bright, colorful, and very kid-friendly. The sound effects are similarly good, while the music is a little too distracting and repetitive. Luckily, it can be turned off from the app's setting screen.
In the final analysis, City Story is a mixed bag. It is likely to appeal most to fans of time-management games, who will love strategizing their factory contracts to maximize revenues, and to devotees of social play, who will appreciate the app's networking features. However, with its relatively small selection of buildings, extremely simplistic gameplay and reliance on in-app purchases for some of the more interesting features, the game runs the risk of quickly becoming repetitive.
[Marco Tabini is a frequent contributor to Macworld.]