Autodesk has announced AutoCAD 2011 for Mac. This new version of AutoCAD, software for professional design and engineering that previously ran only on the Windows platform, now runs natively on Mac OS X. Autodesk also announced that the new Mac version of AutoCAD would be accompanied by the AutoCAD WS mobile application, a new app for iPad, iPhone, and the iPod touch that will let users edit and share their AutoCAD designs remotely.
"The release of AutoCAD for Mac marks the return of professional design and engineering software to the Mac platform and an important convergence of power and design," said Amar Hanspal, senior vice president, Autodesk Platform Solutions and Emerging Business. "Over 5000 customers have helped develop this product through our beta program and they are delighted to have the choice of a native Mac version of AutoCAD."
Apple is happy, too. "Apple is thrilled that Autodesk is bringing AutoCAD back to the Mac and we think it's the perfect combination for millions of design and engineering professionals," said Philip Schiller, Apple's senior vice president of Worldwide Product Marketing. "The AutoCAD WS app is a bold new idea, a mobile version of industry-leading design software for iPhone, iPad and iPod touch, the world's most innovative mobile devices."
AutoCAD for Mac
AutoCAD for Mac—back on the platform after a 16-year absence—sports an intuitive, Mac-like interface that includes graphical browsing of design files with Cover Flow, use of Multi-Touch gestures on Mac notebooks, and use of the Magic Mouse and Magic Trackpad for pan and zoom.
AutoCAD for Mac also offers users easy, cross-platform collaboration with suppliers, customers, clients, and partners because of its support for the DWG file format. Files created in previous versions of AutoCAD will open seamlessly in AutoCAD for Mac, the company says. An extensive API (application programming interface) and flexible customization options facilitate customized workflows, simple application development and adaption, custom settings configurations and screen real estate options to complement individual workflows and projects.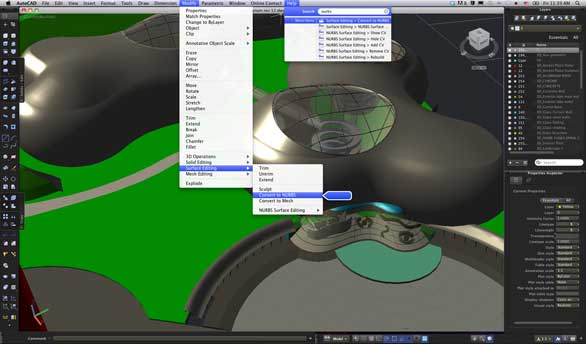 AutoCAD for iPad, iPhone, and iPod Touch
Autodesk also announced the AutoCAD WS mobile application, a new free app that will be available from Apple's App Store. The AutoCAD WS mobile application will let AutoCAD users edit and share AutoCAD files on the iPad, iPhone, and iPod touch for real-time collaboration while on the go.
"The combination of this new version of AutoCAD and the extension of AutoCAD to iPad, iPhone, and iPod touch is a big step in Autodesk's efforts to accelerate design and make design more accessible for an ever-greater number of people so they can shape the world around them," Hanspal said.
AutoCAD for Mac will also be offered free to students and teachers through the Autodesk Education Community.
Availability
AutoCAD for Mac and the AutoCAD WS mobile application will be available in North America and Europe sometime between August and October. Users can pre-order the app, which is priced at $3995, starting Wednesday, September 1. AutoCAD 2011 for Mac works on Intel machines running OS X 10.5 or OS X 10.6.