Marketcircle announced today the release of Billings Pro, a multiuser, multiplatform invoicing and time-tracking system for small businesses that primarily bill by the hour. The new system builds upon Marketcircle's previous products, Billings 3 for the Mac and Billings Touch for iOS.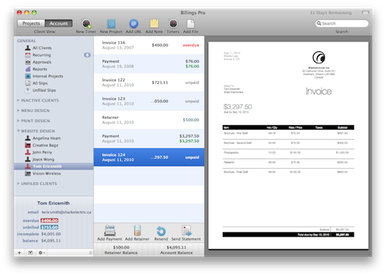 Billings Pro, first announced by Marketcircle back in April, provides end-user software tools for Macs and iOS devices, Web-based tools, and self-hosted server software to glue them all together. The combination of ingredients allows a small business to create a time-tracking and invoicing network on the fly without requiring a technician to babysit the connections. Not only can users track time, but they can also enter expenses and mileage as well. Wireless syncing helps ensure that everything stays current, and details can still be entered even without an Internet connection.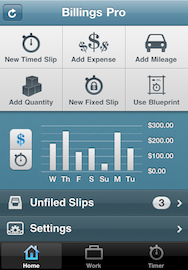 As Marketcircle CEO Alykhan Jetha pointed out in an interesting blog post, some businesses are providing their employees with more personal autonomy to generate and complete work. Marketcircle is attempting to meet these needs with a matching infrastructure that allows them to track this information anytime, anywhere.
Billings Pro requires Snow Leopard on Macintosh; the iOS app requires an iPhone 3G or later (or the iPod touch equivalent). There is no separate iPad version, but Billings Pro will run in iPhone compatibility mode.
Timecard, the Web-based time-tracking component of Billings Pro, is certified to run on most major Mac and Windows browsers—with IE 8 being the "coming soon" exception—and on many mobile devices, including Mobile Safari, Android, and the Blackberry Torch.
Billings Pro is available in an unlimited 30-day trial for as many users as you wish. If you're unsure whether you need the expensive Pro version, or the single-user Billings 3, Marketcircle provides a comparison chart, and allows you to upgrade from Billings 3 to Billings Pro at a later date.
All of this comes at a price, of course: Billings Pro costs $200 per user, which includes all of the above tools; those users looking to upgrade from Billings 3 to Billings Pro can do so for $175 per user.