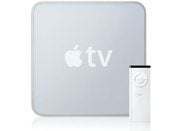 With Apple's fall music event just around the corner, much of the speculation around the Web has focused not on Apple's iPod lineup, but on the company's "hobby"—the Apple TV.
And for good reason. Other than hard-drive capacity, the Apple TV's hardware hasn't been updated since the device debuted back in early 2007. The device's software has been improved several times since then, adding movie rentals and purchases, better 5.1-audio support, photo streaming, the Genius feature, AirTunes support, direct Internet radio browsing, and even an improved interface and support for iTunes LPs and Extras. But the product's hardware capabilities and overall functionality remain much the same—it's still essentially the same device Apple unveiled nearly four years ago, and it feels positively dated in a world with so many alternatives for both hardware and sources of content.
If you believe the rumors, a new Apple TV—whether we see it this week or not—will run a version of iOS and will let you download and install apps for using on your TV. It may also lack a hard drive, instead streaming media from your computer and the Internet (and hopefully from more sources).
But instead of talking about what the next Apple TV might be, I'm interested in what the Apple TV thus far has been—one of the few recent Apple products that hasn't been a raging commercial success. At least, we don't think it has. As Macworld contributor and Daring Fireballer John Gruber noted, Apple has never talked publicly about Apple TV sales numbers, an especially notable omission given Steve Jobs's comment last fall that "if [you] sell a lot of something, you want to tell everybody."
But why hasn't the Apple TV sold like the iPod, iPhone, iPad, Mac, or MacBook? After all, Apple's forté is in taking products, boiling them down to their essence, and making them easy—and fun—to use. And when it comes to the family room, there's a real need for an Apple-inspired convergence device. So why isn't the Apple TV another notch in Apple's consumer-electronics belt?
Let's start with usability. The first problem people who use an Apple TV notice is the poor performance. I'm not talking about AV-geek complaints such as jittery playback or onscreen motion artifacts. No, I mean the stuff you notice before even starting playback—the dog-slow performance of the menus and the too-basic Apple Remote.
Assuming your Apple Remote's commands are regularly recognized by the Apple TV—for some people, an accomplishment in and of itself—the Apple TV has the most sluggish interface of perhaps any AV component I've ever used. After pressing a button on the remote, it can take up to ten seconds before anything happens, leaving you wondering whether or not the Apple TV even detected the command. Of course, if you press the button again, a few seconds later the Apple TV executes both commands, taking you somewhere in the interface you didn't want to go. (And don't get me started about how this sluggishness affects "typing" when you must navigate an onscreen alphabet.) Most members of my family refuse to even touch the Apple TV—it's just too frustrating to use—and I've heard from more than a few potential buyers that this lack of responsiveness doomed the product from the moment of first demo.
But even if you could make the Apple TV's interface snappier and the remote more capable—Apple's Remote app goes a long way toward accomplishing the latter goal, especially now that you can use gestures—the Apple TV wouldn't be a standout device. There's still the larger issue of what it can do. Or, perhaps better put, what it can't.
I'm not talking about spec-sheet chest thumping. I mean basic functionality. The best Apple products rarely have the most features, but they generally get the basics right in a way other vendors haven't: They're usually the easiest to use, or have the best interface, or are fun to use (or all of the above). But the Apple TV fails on all these counts.
Put bluntly, the Apple TV is currently Yet Another Box, but one that, for most people, isn't compelling enough to make it worth the hassle of adding Yet Another Box.
As it is today, the Apple TV can't truly take the place of any other component: TiVo, cable box, DVD player, Blu-ray player, you name it. At the same time, the Apple TV's movie-renting and -buying features are essentially matched, or surpassed, by a number of other devices consumers may already have, including TiVo and cable boxes, and XBox, Playstation, and Wii game consoles.
The Apple TV's sole unique feature is that it lets you access, on your TV, copy-protected content from the iTunes Store. But much of that content is also available from Amazon (MP3 and Video), Netflix, and other sources—sources that can be accessed from other devices. The current Apple TV is especially difficult to recommend when you consider that you can get a Roku HD player for $70 ($100 for the wireless version, $60 for the non-HD model). The Roku boxes can't play iTunes content (protected or not), but for a fraction of the cost of an Apple TV, they can stream content from NetFlix, Amazon Video, Pandora, MLB.TV, and nearly 50 other free and paid "channels." Heck, if Hulu eventually enables video output for the company's Hulu Plus app, even the iPad will offer more content than the Apple TV. The iPad already lets you watch, for free, ABC shows you must pay to watch on the Apple TV.
In other words, the past few years have been filled with missed opportunities for the Apple TV. In order to avoid being a perpetual "hobby" for Apple, the device needs compelling functionality. Some have suggested TiVo-like functionality, though I think that would be a mistake unless Apple could either integrate TiVo itself or improve upon TiVo—a tough bar to reach, considering that TiVo has succeeded by essentially being the Apple of DVRs. Others, including myself, have hoped for a DVD or Blu-ray drive, so the Apple TV can at least replace a dedicated disc player. But that would still raise the question of why your Average Joe/Josie should pay extra to get a disc player with the Apple TV built in, instead of, say, a cheaper Roku box or a newer TiVo.
It's for these reasons that I find the rumors of an iOS-powered Apple TV so interesting. Setting aside questions about how you would control such a touchscreen-less device—and assuming the device would also offer performance at least comparable to that of the iPad—having instant access to thousands of inexpensive apps right on your TV would indeed be a compelling feature, and one that could make those TVs with built-in Internet apps look dated before they even become common. Given the right control system, an iOS Apple TV could even take a chunk out of the huge game-console market—perhaps not among hardcore gamers, but I know more than a few people who'd be happy to spend $200 or so on a system that doesn't require you to spend $30 to $50 a pop for "family" games that are matched, both in visuals and gameplay, by $1 to $5 games for iOS.
So while Apple's fall "music" events generally focus on iPods and iTunes, here's hoping the company spends some time talking about the Apple TV—and not just to repeat the well-worn "It's just a hobby" line.
What would you like to see in a new Apple TV? Let us know in the comments.