Agile Tortoise's dictionary app, Terminology, enjoyed success on the iPad, at one point hitting the number one spot on the iPad Reference charts and placing twenty-fifth on the overall iPad Top 100 Paid Apps. Now, the company is hoping for similar success with its newly released Terminology Ph for the iPhone.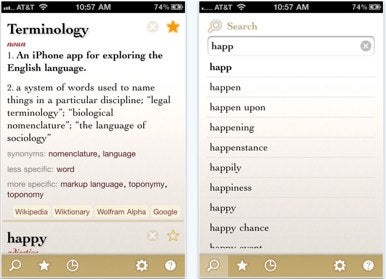 Terminology is a dictionary, thesaurus, and research tool for people interested in learning definitions, similes, and even the history of words. It uses a clean, book-like interface to display information and includes an in-app Web browser with quick links so you can learn more about words and terms on Wikipedia, Wiktionary, and other sites. You can star favorite words for quick access, view more and less specific terms, and see a history of terms you've browsed.
Terminology's built-in dictionary is viewable offline, and the app supports iPhone 4's Retina display and iOS 4's fast app switching. Considering its popularity and positive response on the iPad, Terminology Ph could prove a useful iPhone reference app for students, writers, or anyone else looking to improve their vocabulary and learn more about the English language.
Terminology Ph is on sale now for $1 and runs on iOS 3.1 or later.