Google has made its fifth acquisition since the start of August, this time scooping up SocialDeck, a company that develops games that people can play against friends using iPhones, BlackBerry devices, or via Facebook on a PC.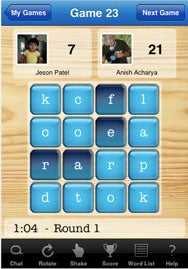 Most of Google's recent acquisitions have been related to social networking and games, fueling speculation that the company plans to release a new social-networking service, potentially centered on games, to compete with Facebook.
SocialDeck developed a handful of games including Shake & Spell, a word game similar to Boggle. A person can open the game on Facebook, for example, and play against friends who are using iPhone and BlackBerry apps.
The game has social-networking features as well, including a page that displays other friends currently playing the game, a leader board and statistics of friends' gaming performance. Players can also post comments in a stream similar to instant messaging.
SocialDeck, which has workers in Toronto and San Francisco, received financing from the BlackBerry Partners Fund in early 2009.
"We were very impressed with the team's talent as well as the technically advanced platform engaging mobile experiences they've built," Google said in a statement. The team will work in partnership with Google staff in Waterloo, Ontario, Google said.
"We're pleased to welcome them to Google, and we think they'll be great contributors in partnership with the Google Waterloo team as we continue to innovate in the mobile space."
At Google, SocialDeck workers will join those from Angstro, a company that built a product called Noteworthy News that delivers news about people and companies in a user's professional network. Angstro said on Friday that Google had acquired it.
Its other acquisitions this month include Slide, a social games developer; Jambool, a company that makes a platform for managing online payment for virtual goods sold on gaming and social-networking sites; and Like.com, a visual shopping engine.
Nancy Gohring covers mobile phones and cloud computing for The IDG News Service. Follow Nancy on Twitter at @idgnancy. Nancy's e-mail address is Nancy_Gohring@idg.com