RSS aggregators—apps that periodically collect new content from any Website that provides an RSS feed—are a great way to keep up with updates to your favorite blogs and news sites. But most of them aren't likely to win any beauty contests. Their interfaces tend toward drab, utilitarian lists of headlines that are a far cry from the shiny presentation to which iPad users are accustomed.
Enter Blogshelf from gdiplus, which seeks to liven up your RSS experience by making your subscribed feeds look less like an ugly clump of text, and more like iBooks. The $5 app does a decent job of that, and if you're in the market for a casual RSS reader that is easy to configure and use, you'll probably be happy with Blogshelf. If you're looking for a more powerful, flexible way to keep tabs on RSS content, though, keep looking.
Blogshelf's main screen is a spiffy, brown bookshelf that holds subscribed RSS feeds instead of books. The cover of each feed displays the most recent unread headline, along with an associated picture. An orange corner on a feed's cover indicates that new articles are available, while a pulsing orange dot indicates that updates are in progress.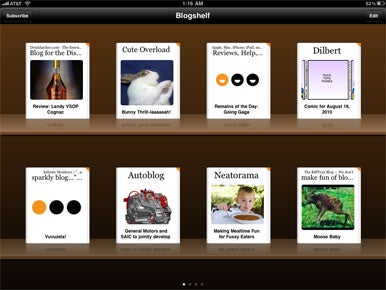 Adding a new feed is as simple as tapping the Subscribe button and either browsing through a collection of pre-selected blogs and topics, or searching with a Website's URL. An Edit button allows you to move your feeds around freely on the shelf, again using an interface very similar to iBooks.
Tapping one of your feeds brings up a list of recent headlines, and tapping a headline brings up a single article. From there you can swipe your way to the next or previous article, view the article in its original Website habitat using either the built-in browser or Safari, mark the article as a favorite, or share it via e-mail, Twitter, or Facebook.
As with most RSS readers, content downloads to your device, so you can pop open Blogshelf while in Wi-Fi range, then happily browse through the morning's updates on the train to work.
Blogshelf is aimed squarely at the casual user for whom ease-of-use is paramount, and if that's you, you'll likely appreciate Blogshelf's familiar, intuitive interface. What you probably won't appreciate is discovering that Blogshelf's presentation is at the mercy of the RSS feeds themselves. While some feeds provide complete articles, others only deliver headlines or short snippets, requiring that you jump to the Website to read the rest. Articles often have no associated picture, or worse, deliver the wrong picture entirely. None of that is necessarily Blogshelf's fault, but you should be forewarned that the user experience can vary wildly.
Power users, meanwhile, will be disappointed at how little Blogshelf provides in the way of customization and features. There's no way to adjust the bookshelf view so that it displays more than nine feeds, nor can you condense the headline list in order to fit more than three on-screen at once. Options for customizing the article display are wafer-thin; you can only choose from four fonts in two sizes, or toggle from black-on-white to white-on-black. You can't manually force Blogshelf to update its feeds or set the interval at which it does so automatically, and you're out of luck if you'd like to sort articles differently or display all new headlines in a single list.
Casual and power users alike will be annoyed that you can't mark all of a feed's articles as read, a crucial feature whose omission makes it nigh impossible to identify whether a feed has new content, or just old-and-unread content.
That said, Blogshelf does mostly succeed at its stated mission of providing an attractive, simple, and accessible way for iPad users to enter into the wonderful world of RSS. Just don't be surprised if you soon find yourself putting this app up on the shelf to find a more powerful reader.
[Steve Lutz secretly believes that bookmarks are a perfectly satisfactory way to stay up-to-date on blogs.]