Jumsoft has updated its selection of free themes for Keynote. The latest batch includes ten lively designs that are part of its Goodies bundle.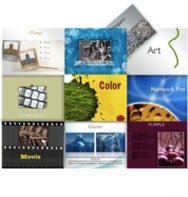 Offered since 2008, Jumsoft's freebies showcase the company's design cred. Each Keynote theme includes 20 master slides that accommodate photo and table layouts as well as traditional bulleted text. The themes include "Glacier" (with a photo of what else but a giant white glacier), "Vintage" (which features old photos), and "Network Pro" (with a clean, corporate look).
Of course, Jumsoft says the Keynote themes can be used for even better results with their paid products, Keynote Animations and Keynote Objects, both of which offer professional images and motions. The company also sells pro versions of its Keynote themes.
The Keynote themes in Jumsoft's Goodies bundle are available now at no cost. You'll need to have Keynote 4 or later.