When Charles Golvin gets on an airplane, he often finds himself sitting next to somebody with two Apple devices in hand—usually an iPhone, often along with something smaller, like an iPod shuffle or an iPod nano. It turns out that lots of people love their iPhones too much to use in every situation.
"The iPhone is such a valuable instrument, they don't necessarily want to be out jogging with it—exercising at the gym and getting it all sweaty," said Golvin, a senior analyst at Forrester Research in Boston.
And that's a key reason why the iPod remains firmly in the picture, as Apple prepares for its annual fall music event on Wednesday. While the days of explosive sales growth are behind the company's iconic music player and the classic, nano, and shuffle versions of the iPod have ceded their place in the spotlight to touchscreen-driven devices like the iPhone and iPad, the music business remains a lucrative one for Apple.
True, in Apple's most recent fiscal quarter, iPod sales fell 8 percent from the previous year. But the company still sold 9.41 million iPods—not bad for a future product line that hadn't seen an update since the previous September.
Even with overall growth slowing, the iPod remains the top-selling brand of MP3 player, commanding a 70 percent market share, according to Apple's figures. And Apple enjoys strong growth from the more advanced—and higher-priced—iPod touch. Sales of that model grew 48 percent during Apple's fiscal third quarter, leading to a 12-percent jump in average selling price for the iPod.
"Clearly, Apple likes selling touches," said Ezra Gottheil of Technology Business Research. "It's more like their other devices than other iPods are."
But analysts suggest the habits of Colvin's airline seatmates may offer a clue about the future of Apple's iPod plans, with the touch established as the flagship of the product line while smaller, cheaper shuffles and nanos remain for entry-level consumers and "secondary" uses.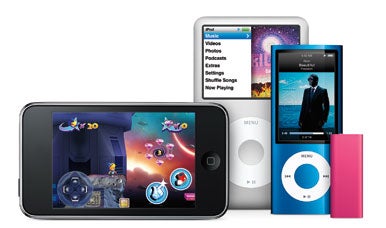 And what of the venerable iPod classic, the one remaining hard drive-based music player in Apple's lineup? Observers point out that line is still profitable, but its days of growth are over. Everybody who wanted an iPod, it seems, has one by now.
"It's a nice business, and it's not going away," added Roger Kay, president of Endpoint Technologies Associates. "But if I was a manager at Apple and was told 'You've got the iPod business,' I don't know how happy I would be."
Apple has kept the traditional iPod fresh and in demand over the years by adding features and tweaking the design. Analysts say there is still work that can be done on that front: FM radios—added to the nano as part of last year's refresh—could be expanded to the entire line. Wi-fi capabilities could be added, both to offer iTunes sales directly to devices and to take advantage of Apple's purchase of cloud-music purveyor Lala. Television service is also a possibility.
"That's probably the next thing they'll do across the line, with the exception of the shuffle, is to integrate the TV experience into these devices," said Rob Enderle, principal analyst for the Enderle Group.
Just don't expect such changes to jump-start growth in the sales of traditional iPods.
"I don't think that's going to grow the market that much," said Ben Bajarin, director of consumer technology for Creative Strategies in Campbell, California.
It should, however, bolster Apple's holiday sales. After last year's iPod event, Apple sold nearly 21 million music players during the three-month period covering the 2009 holiday season—more than double the iPods sold in the previous three months. Still, that was an 8 percent drop from the year-ago holiday quarter.
Consolidation of the iPod line might happen in the near future, observers said: There may not be a need for both the nano and the shuffle, for example. But few analysts expect Apple to entirely abandon traditional-style iPods in favor of the touch.
"There is still quite a large audience that is price-sensitive that Apple still wants to target," Bajarin said. "It might not be the kind of booming, growing sales that the iPod Touch has … but there is still a short-term role for an audience that is price-sensitive."
And there's still profit to be made.
"Flat doesn't mean down," said TBR's Gottheil. "Down doesn't mean down a whole lot. Selling 50 million of a thing every year, which they've done the last couple of years, is not a bad thing."
"It's still a large market," added Ross Rubin, executive director of industry analysis for NPD Group. "There's still significant demand for a product that is simpler in its functionality, and less expensive than the iPod Touch."
Golvin agreed. "I don't think it's time," he said, "to stick a fork in the iPod."