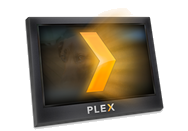 Media mavens will be pleased to see that a substantial update to Plex, the media center software for Mac OS X, has arrived as of Tuesday. Dubbed Plex/Nine, the program now incorporates a separate media manager application to help you organize and catalog your movies, TV shows, music, and more. In addition, Plex has released a companion app for the iPhone and the iPad.
The new Plex Media Manager takes functions that used to be baked into Plex itself and spins them off into a more Mac-like separate application, where they can be easily tweaked and adjusted. You can use the media manager to dictate which sites Plex will turn to for metadata, such as IMDB, TVDB, Last.fm, and more. In addition, you can adjust the thumbnail and background images for your media; Plex is also planning on adding metadata editing capabilities and additional features in future releases.
Behind the scenes, Plex can also now update your media library automatically, so you don't have to constantly scan for new content. That's a welcome addition for those users who frequently acquire new media. And when you launch Plex for the first time now, you're greeted by a setup wizard that will help you configure the program to your liking.
The Plex iOS app, which sports interfaces for both the iPhone and the iPad, lets you control the functions of Plex on your Mac and also stream media from the machine running Plex directly to your device. You can watch TV shows and movies, play music, view pictures, and more over Wi-Fi or 3G.
Plex requires Mac OS X 10.5 or 10.6 and an Intel Mac. The iOS app is $5 and requires an iOS device running iOS