Hack. Slash. Brawl. Whatever you call it, the object in beat-em-ups is the same: defeat your enemies. In Knight's Rush, you embark on a medieval fantasy adventure chock full of enemies just looking for a good smiting.
The cartoonish graphics and adorable animations of Knight's Rush have interesting origins. Although the game started out as nothing more than a small promotional tool for one of Chillingo's other, bigger games, Knight's Rush is now an expansive and impressive side-scrolling beat-em-up in the vein of the addictive medieval console title Castle Crashers.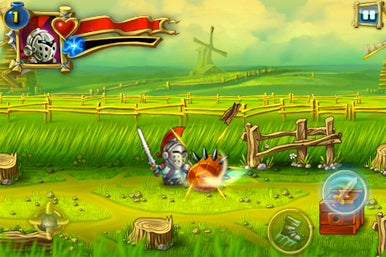 As you battle your way through the fantastical worlds of Knight's Rush, you'll play as one of three playable classes that can gain experience, learn new spells, and level up. Interestingly, the game's 40 levels are split up across 8 uniquely themed worlds, and each time you start a new world your character's level is reset to 1. While this might sound like a major bummer, it actually allows players to really get a feel for all three characters, and because of this the game is kept fresh throughout.
The game is thin on plot—you're a knight who has been pulled into some sort of alternate reality, and you have to fight a calvacade of colorful baddies. As you battle your way through the game as one of three playable classes you'll gain experience, learn new spells, and level up.
Knight's Rush has obviously taken some inspiration from the aforementioned Xbox Live Arcade hit Castle Crashers, but it's no mediocre rip-off. On a graphical level the game stands head and helmet above nearly every other game on the App Store. Every level is dense with vivid 2D art assets, all of which is held together by a vibrant cartoon style that lends the game ample personality and a great, polished feel. Also full of personality are the three playable characters, who carry scythes, swords, and hammers. Each of the little knights are slight variations on a similar play style, and their unique abilities revolve around their weapon of choice.
Many a reviewer has complained about virtual stick/button controls on the iPhone—and rightfully so. I'm not sure how Chillingo pulled it off, but Knight's Rush's touch-based buttons and analogue stick feel just right. It's easy to trudge around battlefields as a hefty knight, and my fingers never got lost amongst the on-screen action.
Knight's Rush is a shining, armored example of how to do beat-em-ups on the iPhone. Fantastic production qualities, surprisingly easy to manage controls, and a unique leveling mechanic make this a game few iPhone owners are going to want to pass up.
[Ryan Rigney is a frequent contributor to Macworld.]