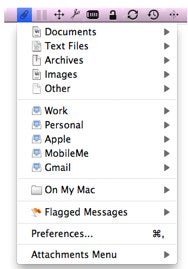 Do you ever find yourself wondering what happened to that file so-and-so sent last week—or was it last month? Apple's Mail client offers no easy way to sift through your old attachments, but Yazsoft's new Attachments Menu could make your life easier. It's a handy utility that gives you quick access to all of your Mail attachments from the menu bar.
Attachments Menu scans your mailboxes and indexes all messages that contain attachments. When you click the menu bar icon, it displays a customizable menu that sorts your attachments by file type, mailbox, and more. Along with access to your sought-after attachments, you can also open the original message that brought an attachment.
Attachments Menu requires OS X 10.6.4 or later and costs $10. It also comes bundled for free with Yazsoft's ShareTool and Playback.