At a Glance
Expert's Rating
Pros
Captures lecture or meeting audio and links it to your written notes
Notes can be shared as Flash, PDF, or AAC files
Cons
Smartpen is heavy and larger than typical pen
Some teachers may not want lectures recorded
Our Verdict
School lectures and business meetings can at times seem like guessing games wrapped in a horserace. Outlines and syllabi, slide presentations and class discussions, lectures and lecture notes, and therein lies the challenge. Someone speaks, you listen and scribble like mad hoping that the notes you're scratching out bear a reasonable resemblance (bad penmanship aside) to what it is that's being said, and in the case of school, what your teacher expects when it's time to take a test. Livescribe's Echo Smartpen is designed to remove the mystery from lecture and meeting notes by capturing the entirety of what is said in business meetings and classroom lectures and linking it to your personal notes.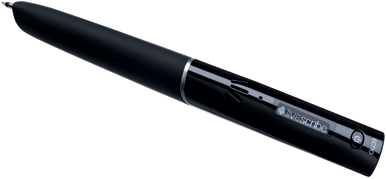 The Echo Smartpen combines a voice recorder with a small infrared camera that, when used in conjunction with Livescribe's special Dot Paper, can record what you're listening to as you scribble out classroom notes, and then link that written text with the exact point in a lecture where you wrote those notes down. This little miracle is possible because of Livescribe's special Dot Paper. Dot Paper, according to Livescribe, is "…regular paper printed with a unique patter of tiny micro-dots." It's these micro-dots that allows the Smartpen to track everything you write and then link it to what's being spoken. Dot Paper is available for purchase at stores such as Target and Wal-Mart or, if you have a laser printer capable of printing at 600 dots per inch, you can print your own at home.
After the lecture's over, the real value of the Livescribe system is revealed. Power up the Echo Smartpen and touch any word or diagram you scribbled in your notebook and the Echo Smartpen will begin playing back the lecture audio from the exact point in the lecture where you wrote your note. Alternatively, import your lecture from your pen to the Livescribe Desktop application and you can organize your lecture notes, re-listen to a lecture and watch as your notes appear on screen, e-mail your written notes as a PDF or audio notes as an AAC file, or both as a Flash file (called a Pencast) to friends, and share them with others on the Livescribe Website.
Beyond capturing your notes, Livescribe's Dot Paper also acts as the tool you use to control your pen. At the bottom of each notebook page there are a collection of buttons that, when touched with the Echo Smartpen, can be used to adjust volume, start, stop, or pause a recording session, create bookmarks within the body of your written text, and which can be used to access the Echo Smartpen's internal menus.
While the Echo Smartpen is primarily designed to capture audio and notes, there are also applications you can purchase for your Echo Smartpen from the Livescribe Website. Several of the apps available for the pen border on the useless ( Human Sound Effects, Sexy Oracle, Butt Tunes) but some are worthwhile additions, such as a calculator app that lets you tap on the calculator keys printed in front of every notebook for performing calculations and the dictionaries and phrase books available in a variety of languages that can read a word you've written down and define it.
One of my chief complaints about the Livescribe system is the size and weight of the pens. I found the Echo Smartpen to be significantly heavier and fatter than any other pen or mechanical pencil that I use. Even after using the Echo Smartpen for several weeks I often found that my hand got tired 15 to 20 minutes into a lecture. Also, some teachers, especially those in colleges, do not like to have their lectures recorded. So you need to make sure you know your professors and their policies regarding electronics in their classrooms.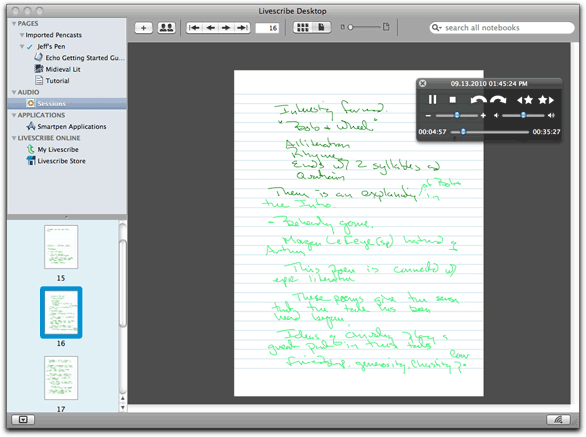 Macworld buying advice
The Livescribe Echo Smartpen is an excellent tool for capturing lecture or meeting audio and linking it to the notes you take. While the pen is a bit hefty, especially for smaller hands, the benefit of capturing lecture or meeting audio and linking it to your own personal notes make the Echo Smartpen a worthwhile addition to the tools you use for school and work.
[Jeffery Battersby is an IT Consultant, (very) smalltime actor, and regular contributor to Macworld. He writes about Macs and more at his blog .]