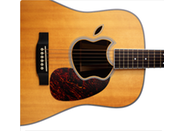 If you've clamored to see Steve Jobs in action at one of Apple's press events, your typical modus operandi has been to bide your time until Apple posts a QuickTime stream of the presentation later in the day. That changes with Wednesday's music event in San Francisco. Apple says it will provide live video streaming of the festivities beginning at 10 a.m. PT.
There's a catch, of course—to see Steve Jobs in all his mock turtlenecked glory, you'll need either a Mac running both Safari and Snow Leopard, or an iOS device running the iOS 3.0 update or later. The broadcast takes place on Apple's Website.
If you're still using Mac OS X 10.5, don't fret—Macworld will continue its usual live coverage of the event, featuring live reports, analysis, and pictures from San Francisco's Yerba Buena Center. Might we also humbly suggest that you keep our commentary open in a window while you're watching the video?
Wednesday's press event is expected to focus on Apple's music efforts. The invitation for the event features a guitar festooned with an Apple logo, and Apple has used similar fall press conferences to overhaul its iPod lineup in advance of the holiday shopping season. My colleague Dan Moren rounds up the possible announcements to come out of Wednesday's event elsewhere on Macworld.com.