Think of Appigo's Corkulous as a corkboard for your iPad. Corkulous tries to make it easy to organize thoughts for everything from remodeling a room to planning a birthday or coming vacation—or practically anything else you'd like to brainstorm.
Corkulous sports an array of objects—labels, post-it notes, to-dos, photos and contacts—that you can place on your virtual corkboards. To access them, you "pull" open a file cabinet in the bottom-left of the screen and drag them onto the board. You can even drag out more corkboards onto your board, so you can drill down on a topic.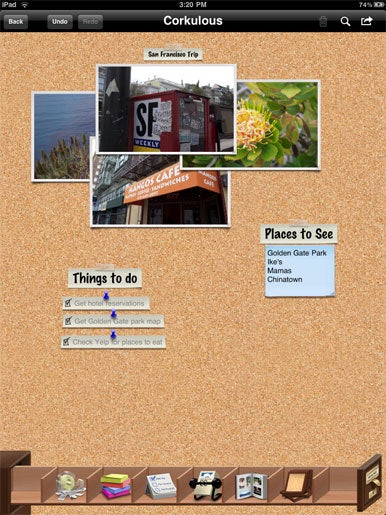 The app's interface is simple to use and works well. Moving things around is as simple as dragging them; pinching gives you a birds-eye view of your board. If your board happens to have a lot of items, a quick search in the Corkulous toolbar brings you to whatever item you want. It's also easy to move and delete items—holding and dragging an object allows you to move it around, and you can tap the trash can icon in the toolbar to delete it. Moreover, selecting multiple items works just like it does on a Mac—tap and hold on an empty part of the board, then drag the select box over the items you want to select.
As for the objects, you can change the color, font, text size, and text alignment in a post-it note. You also can re-size notes and photos. Tap a checkbox, and to-dos get a very satisfying checkmark while turning light gray. The app's file-cabinet holding area for objects may be terribly kitschy, but it works well, staying out of the way until you need to get an object.
Some objects in Corkulous have annoying issues, however. Editing an existing post-it note or to-do, for example, requires touching the item to select it, then double-tapping it; if you are zoomed out, you'll need to double-tap twice. That's not an obvious behavior, and it took me several tries to figure out how to edit a note or to-do.
I also found photos to be a pain to use. Adding multiple photos to a board is particularly time-consuming, requiring you to drag out a new photo object for each image and then find that photo in your image library. To-dos are similarly annoying. To make a new to-do, you must drag a to-do object onto the board. Since to-dos usually have multiple items, making a to-do list requires dragging out a to-do object and aligning it with its related to-dos—a distracting and time-consuming process. I would have preferred the to-do object to default to a list that created a new entry whenever I tapped the enter key on the keyboard.
I wouldn't call Corkulous feature-rich, but that is the app's charm. Because Corkulous doesn't have a bunch of features or a multitude of options for each object, you think about what you are trying to organize rather than the application itself. The quirky file-cabinet even adds to this—it sets the tone for Corkulous being a light-hearted way to quickly organize your thoughts on a new project.
I typically shy away from applications that so heavily use real-life things in their interface, but the corkboard and even the file-cabinet fit the app's quick and easy-to-use approach. For that reason, Corkulous is a great way to plan out ideas, particularly for families and home users. In that sense, the app shows how the iPad can serve as a family computing appliance in a way a desktop or laptop computer just can't.
[Kyle Baxter writes and publishes the Mac weblog TightWind.]