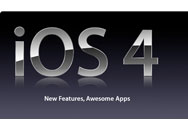 Apple will release an update to its mobile operating system next week that fixes many bugs while introducing several new features to iOS. The company showed off those features Wednesday during its fall music media event in San Francisco.
In addition to the iOS 4.1 update for the iPhones and iPod touch, Apple also previewed another update to its mobile operating system on Wednesday. The iOS 4.2 update will work on all of Apple's mobile handhelds—including the iPad—when it arrives in November.
Among iOS 4.1's new features are high dynamic range (HDR) photos, Game Center, uploading full HD videos over Wi-Fi, TV show rentals, and a handful of major bug fixes.
High dynamic range photos are actually three photos shot in rapid succession with different exposure ranges, then combined into one photo featuring the widest color and exposure range possible.
Game Center was first announced when Apple previewed iOS 4 this spring but didn't appear in the operating system's June release. It incorporates many of the features of existing third-party iOS gaming networks, allowing users to challenge friends to games, auto-match you with other players "if you don't have any friends," compare scores, and discover new games that your friends are playing.
Apple CEO Steve Jobs also announced AirPlay, an updated version of Apple's AirTunes feature that iTunes shares with the AirPort Express. iOS devices will now be able to stream from iTunes, but in addition to audio, AirPlay now allows video and photos to be streamed. Jobs also later demonstrated that AirPlay on can be used to choose which device to use to play back media; in his example, he switched from viewing a movie on an iPad to an Apple TV. The Apple CEO demonstrated the technology during his iOS 4.2 preview.
In addition, Jobs said that the iOS devices would gain support for Apple's new music-focused social-networking service, Ping. While it's built into iTunes 10 on the Mac, Ping on iOS devices is part of the iTunes Store application.
A number of bugs have also been squashed in iOS 4.1. Jobs said the update would address proximity sensor issues with the iPhone 4 as well as problems with Bluetooth connectivity and audio quality. In addition, the iOS 4.1 update should improve sluggish performance on older iPhone 3G models.
A preview of iOS 4.2, which is scheduled to arrive for the iPad in November, also made an appearance. Jobs stated that iOS 4.1 features like Game Center and HDR photos will come to the iPad (despite its current camera-less design), as well as AirPlay and wireless printing—a much requested feature since the iPad first arrived.
Both the iOS 4.1 and 4.2 updates will be free to owners of iOS devices.
Updated 11:20 PT with additional details on iOS 4.1 support for Ping and AirPlay. Updated on September 5 to correct information about AirPlay.