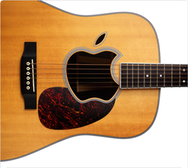 Apple didn't just roll out new products during its Wednesday press event; it also rattled off some impressive statistics about its mobile, music, and retail efforts. Here are some of the numerical highlights from Steve Jobs's presentation.
iOS: Apple's touch-based operating system, is now installed on more than 120 million devices worldwide, and accounts for some 230,000 new activation every day. Jobs pointedly noted that this last number pertains to new activations only, implying that some of the competition may be counting upgrades in their numbers as well.
App Store: Apple's online retail outlet for mobile apps has tallied 6.5 billion app downloads—a whopping two hundred every second. The number of apps in the store, which recently topped 300,000, includes 25,000 designed specifically for the iPad.
iTunes Store: Apple's online music store opened in 2003, adding movies, TV programs, and e-books in the ensuing years. Jobs says that iTunes customers have downloaded 11.7 billion songs, 450 million TV episodes, 100 million movies, and 35 million books. In total, iTunes now holds some 160 million accounts set up for one-click payment using a credit card.
Apple Stores: Moving to Apple's brick-and-mortar retail efforts, its chain of stores reached 300 elocations with the introduction of its Covent Garden store in London. The company now has stores in ten different countries, from the US to China, which, on some days, see more than one million combined visitors come through their doors. Apple will soon add an 11th country to the mix when it opens its first store in Spain.
iPods: Apple says its sold 275 million music players since it introduced the iPod in 2001. Of these, iPod touch owners alone account for 1.5 billion downloads from the App Store, resulting in a platform that, according to Jobs, outsells all its competitors combined.