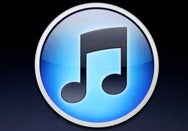 Apple on Wednesday announced iTunes 10, a major upgrade to its music jukebox and media-management software. Leading the changes in this version is a social-networking component aimed at helping users discover new music.
Apple CEO Steve Jobs described that feature—called Ping—as "Facebook and Twitter meet iTunes." A major new social component of the iTunes Store, Ping is an opt-in social network that lets customers follow their favorite artists, as well as follow—and be followed by—friends. Artists can also interact with their fans on their iTunes Store page. Users can create a "circle of friends," view what their friends are buying and listening to or watching, post their thoughts and opinions on artist and album pages, keep track of more than 17,000 concert listings, and mark which ones they're going to.
Ping will also be available on the iPhone and iPod touch as a new button in the iTunes Store app, as of the iOS 4.1 update.
iTunes 10 also gained a new hybrid view that reorganizes the way the application displays album art in music columns. For albums with more than five songs, iTunes can display an album icon and take up no extra space or require the window to be expanded. In general, Apple has slimmed down the user interface of iTunes, replacing the colored icons in the sidebar with new grayscale ones, shrinking and simplifying the toolbar at the bottom of the window with a more iOS-inspired look, and even adopting a somewhat unorthodox vertical set of close, minimize, and zoom window widgets in the top left corner.
In addition, the iTunes Store has added $1 TV rentals of HD series from Fox and ABC. As with iTunes movie rentals, users have 30 days to press play on their purchase; however, unlike films, they have a 48 hour window to finish watching them once they've started. Rentals will be available on iPhone, iPod touch, iPad, the new Apple TV, and Macs and PCs.
Apple has also rebranded its AirTunes streaming system, which allowed users to play back music from their iTunes library on speakers connected to their AirPort Express or Apple TV, to AirPlay. More interestingly, the company has opened the system up to third parties such as Denon, Marantz, Bowers & Wilkins, JBL, and iHome.
iTunes 10 will be available as a free download on Wednesday at Apple.com or iTunes.com.
Updated at 12:43 PT with more details on iTunes 10 features.