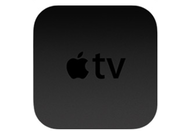 Topping off its music-focused event on Wednesday, Apple included a revision of the device that it's famously referred to as its "hobby": the Apple TV.
Steve Jobs opened with a discussion of the feedback Apple received from users with the release of the original hardware, which he summarized as users wanting a device that was more consumer electronics and less a separate computer. So Apple made design decisions to match: Apple TV video is now entirely streamed from the online store or the local network, doing away with pesky storage-management and syncing issues. And the device is small, quiet, and runs cool, making it ideal for a spot on the TV stand.
The Apple TV's video features rely heavily on an iTunes Store rental model: movies in HD will cost $4 for library titles and $5 for new releases; TV shows will go for just $1. Apple also offers standard definition movies for $4 for new releases and $3 for library titles. As previously, rentals must be watched within 30 days; once you begin watching a movie, you need to finish it within 24 hours. Television shows, on the other hand, get a 48 hour window. For TV shows, the Apple TV will also track which episodes you have watched.
In addition, Netflix subscribers can get access to the entire Netflix streaming library as well, along with the ability to add titles to their instant queue. And of course, you can still play videos stored in iTunes residing on a computer on your local network, as well as from your iOS devices. While Jobs said consumers told Apple they preferred Hollywood content rather than "amateur hour," YouTube is still available on the device, as photos from Flickr, and pictures and video Apple's own MobileMe service. In addition, you can stream video and audio podcasts and Internet radio.
One of the new features Jobs showed off was the addition of AirPlay. The successor to Apple's AirTunes media streaming feature, AirPlay allows you to begin watching a video or listening to music on one device and then switch to another device. You can start playback on your iPhone, iPod touch, or iPad and then switch seamlessly to your Apple TV with just a few taps. AirPlay will require iOS 4.1, which Apple will ship next week.
Physically, the new AppleTV is a black box measuring 3.9 inches square, with a height of just under an inch. The back panel sports interfaces for HDMI (with resolutions up to 720p), optical audio out, 10/100 Ethernet (complementing the built-in 802.11n wireless), and a Micro-USB port for service and support. It also ships with the same Aluminum Apple Remote that Apple released last year; you'll also be able to use Apple's Remote app for iOS devices to control the Apple TV.
The new AppleTV is $99, and can be pre-ordered immediately. It will ship in "four weeks," with no specific release date set.
Updated at 12:24 PT with more details on new Apple TV features.