As expected, Apple refreshed its iPod lineup Wednesday, unveiling redesigned versions of its iPod touch, iPod nano, and iPod shuffle music players. But the company didn't stop there, using its annual fall music event to also announce an update to its iTunes software and an overhaul of its Apple TV set-top box.
The fall music event is an Apple tradition dating back at least six years, in which the company typically rolls out new iPods in advance of the holiday shopping season. This year's edition took place in San Francisco Wednesday, with Apple CEO Steve Jobs leading a 90-minute run-through of his company's music plans for the coming months.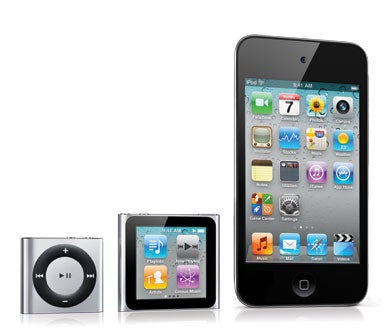 Those plans include a revamped iPod touch that adopts many of the features of its iPhone 4 counterpart—including front-and-back-facing cameras and support for Apple's FaceTime video chat technology. The fourth-generation touch also sports the Retina display technology introduced to the iPhone line this summer.
Available next week, the touch comes in 8GB, 32GB, and 64GB capacities, priced at $229, $299, and $399, respectively.
Get more iPod touch details
As for Apple's other iPod offerings, both the nano and shuffle have undergone radical redesigns. The latest iPod nano now features a touch-interface on a chip-sized device—it's 46 percent smaller and 42 percent lighter than the previous nano.
The interface of the new nano will remind users of the iPhone and iPod touch—it features multiple Home screens capable of holding up to four icons each that users can scroll between.
The nano may come with a new design, but it's lost some capabilities from previous generations. The video camera Apple introduced to last year's nano offering is gone as is the ability to play back videos.
The nano comes in seven colors and in two capacities—a $149 8GB model and a $179 16GB model. It ships next week.
The shuffle also gets a radical new look. A circular playback control returns to the music player, which also retains the previous versions support for multiple playlists and VoiceOver capabilities for announcing artists, albums, and songs. Apple added support for Genius playlists to the shuffle, which now offers 15 hours of battery life.
Available next week, the shuffle comes in five different colors. The 2GB music player costs $49.
Get more iPod nano and iPod shuffle details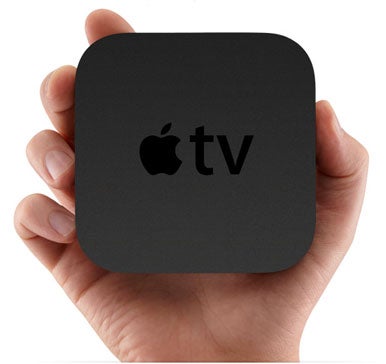 iPods weren't the only hardware to get a make-over Wednesday. Apple also introduced a smaller version of its Apple TV set-top box. The palm-sized black box will put the emphasis on streaming content, either from Apple's online iTunes Store or from a local device. According to Jobs, that approach eliminates some of the issues users had with storing and syncing content with earlier versions of the Apple TV.
As part of that rental model, Apple will offer movie rentals for $5 and TV show rentals for $1 from its iTunes Store. Netflix subscribers will abe able to access the Netflix streaming library on their Apple TV.
The revamped Apple TV costs $99 and is set to ship in four weeks.
Get more Apple TV details
The other big announcement to come out of Wednesday's press event was an update to iTunes, Apple's music jukebox and media management software. iTunes 10 features Ping, described by Jobs as "Facebook and Twitter meet iTunes." The social networking component lets iTunes users follow their favorite artists, who can interact with users via pages on the iTunes Store. Users can also see what friends are buying, listening to, or watching via Ping.
Get more iTunes 10 details
While iPods took much of the focus on Wednesday, Apple had some news for iPhone and iPad users. The company previewed iOS 4.1, an update aimed at iPhone and iPod touch users that introduces several new features while also fixing several bugs that have dogged the mobile operating system since its June release.
In addition, Apple previewed iOS 4.2, an update for all its iOS devices including the iPad. It will ship in November and give the iPad wireless printing capabilities, among other features.
Get more iOS 4.1 and 4.2 details
iOS 4.1 introduces Game Center, a feature first previewed when Apple took the wraps off its iOS 4 update in the spring. Game Center is both a set of APIs for developers and an app on the iPhone. It allows developers to better implement multiplayer into their games while iPhone- and iPod touch-toting gamers will be able to more easily challenge friend to games.
Get more Game Center details
32GB iPod touch (fourth generation, late 2010)
16GB iPod nano (sixth generation, late 2010)
64GB iPod Touch (fourth generation, late 2010)
Price When Reviewed:
$279