SeedCode has announced the Zulu iCal Server plugin for FileMaker Pro Server databases. FileMaker offers internal date-handling, but before now, databases that implement a calendaring solution have typically had to use FileMaker scripting and AppleScript in order to export this information to an iCal calendar. Zulu bypasses that by making the live data in a multiuser FileMaker database available directly in iCal.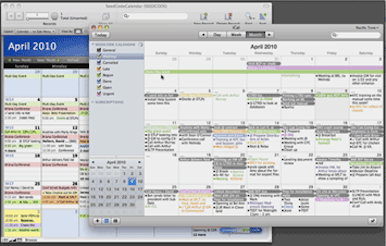 Any changes made within iCal are immediately written to the FileMaker database storage; no data synchronization is necessary. Changes made to calendars on iOS devices are treated similarly. Any data entered directly into FileMaker will appear on Macs and iOS devices when they refresh their calendars.
If the records in question are already opened by a FileMaker user, Zulu implements record-locking to ensure database integrity. Zulu also implements rule-based filtering which allows the FileMaker developer to only display part of a database table in a calendar, or to split a single table across several calendars, showing different information to each user. Changes to Zulu-hosted calendars can trigger FileMaker scripts, allowing further data manipulation based upon new updates or deletions.
Zulu requires FileMaker Server 9 or higher, and is installed server-side only. Pricing starts at $299 for a five-calendar license and unlimited users; the unlimited enterprise license is $689. A free trial is available, which expires after two hours of operation.
Zulu: iCal Server for FileMaker
When you purchase through links in our articles, we may earn a small commission. This doesn't affect our editorial independence.