Koduco Game's PongVaders: Episode 1 for the iPad is a cross between two classic games: Pong and Space Invaders. Instead of dueling it out on a simulated tennis court or playing as a land-based tank, however, you and a friend battle in space. Aliens have taken over the center of your screen and are intent on destroying Earth. Using your square, tennis-like paddles, you and a partner (the game is multiplayer only) must work together to deflect any missiles the aliens throw at our beloved world.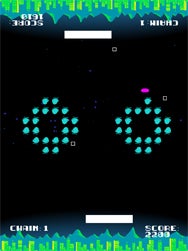 Earth cities are located at the top and bottom of your vertical iPad Screen. Each partner must protect one city. If you deflect a missile from a city, the missile will bounce back into space. It can then do either one of two things: hit and kill an alien, or bounce in your partner's direction.
PongVaders has ten levels that go by very quickly. In total, my partner and I completed the game in about twenty minutes. Levels get tougher as you progress—your enemy aliens develop different patterns, the amount of missiles coming at you increases, and meteorite obstacles pop up that block direct attacks on the aliens— but the game is still remarkably short.
The game's graphical abilities are more advanced than the original Pong—but not by leaps and bounds. Everything is still in two dimensions and has a definite "retro" feel. Missiles are square-shaped and can either be red or white. Aliens take the form of pink or blue strawberry-shaped creatures. You deflect missiles with the same old square, white paddles that you use in the original Pong. The only graphical exertion the game puts on the iPad involves the Earth cities. City buildings are in a green, blue and yellowish hue and look more and more decrepit as missiles hit them.
The game's sound quality is superb and you will be able to hear every alien, missile and explosion clearly. But my partner and I did grow tired of PongVaders techno soundtrack. It would be nice if the game offered you the opportunity to use music from your iTunes music collection as its soundtrack, but no dice.
Since multiplayer is such a vital component of gameplay, PongVaders offers you the option to play the game online with your friends via its "OpenFeint" option. Unfortunately, the game does not offer an online player-randomizer, meaning you can't be assigned a partner to play with while online. You will have to wait till one of your friends is online to play PongVaders on the Internet.
PongVaders brings the feel of Pong to the iPad and successfully adds an alien component to it. Its quick and challenging gameplay, its prettier graphics, and its easy to use interface make PongVaders worth your time.
[Sam Felsing is an editorial intern for Macworld.]