It's official: after months in the dark, dank caves of rumor and speculation, the official Twitter app for the iPad has now emerged into bright, friendly light of the App Store.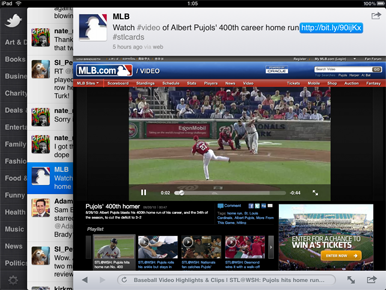 Announced late Wednesday evening on the company's blog, Twitter for iPad comes as part of a universal update to the formerly iPhone-only Twitter app. Besides the program's newly redesigned icon, Twitter's iPad flavor features an entirely new interface designed around the concept of sharing content.
Bringing to mind a never-ending Japanese Shoji screen, Twitter allows users to tap links, photos, conversations—and just about anything else—all of which open up in a series of sliding panels. Flicking to the left or right will bring each panel center stage, while the others stack neatly off-screen.
HTML5-friendly video players like YouTube and Vimeo will play inside the app, and even better—they'll load in a background pane while you're free to continue to browse your timeline.
A whole bunch of neat little gestures are hidden away inside the program, as well: you can pinch out on a tweet and get a pop-up window showing the author's profile page, or use two fingers on a reply to look at the complete conversation.
But despite all this talk, the only real way to get a sense of the company's app is to play around with it—and since Twitter's built in a nice introductory screen for searching, seeing trends, and top Twitterers, you don't even need an account to get started.
You can download Twitter for free from the App Store on your iPad or via iTunes on your computer; the app requires your device run iOS 3.1 or later.