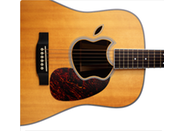 Apple bucked tradition and streamed Wednesday's special event live, so that iPod and Apple TV enthusiasts (with well-equipped Macs, iPhones, or iPads) could watch Steve Jobs show off the company's latest wizardry in near real-time.
Some of you, however, apparently had work to do. So if you didn't get to watch the event as it happened, but you want to see Steve Jobs briefly forget to re-orient his iPod Nano's screen so that it's not upside down for his audience, I've got good news for you: Apple has posted the full video from Wednesday's event on its Apple events page.
If you experienced the blips, hiccups, and blinking that some live stream viewers suffered through, you'll be delighted to learn that the freshly-posted copy is free of such interference.