Apple has mentioned Facebook Connect support for new social network Ping in Wednesday's keynote, the iTunes 10 how-to video, on the Ping Website, and even in a conversation with All Things D. So why is the feature apparently no longer available?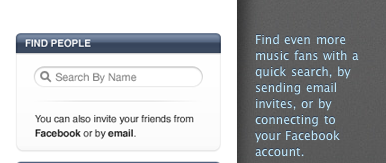 As first seen by this reporter and others, iTunes 10 launched late Wednesday evening with Facebook Connect intact. The feature, initially available when editing your profile, allowed users to connect their Facebook accounts to their Apple IDs to find Facebook friends on Ping. But the option has subsequently vanished.
According to an interview that All Things D's Kara Swisher conducted with CEO Steve Jobs shortly after Wednesday's event, Facebook Connect may not have even been intended to show up in iTunes 10 in the first place. Jobs told Swisher that the two companies had spoken about Facebook integration with Ping, but Facebook wanted "onerous terms that we could not agree to." When asked if, despite these disagreements, the company might still consider implementing Facebook Connect, Swisher says "Jobs shrugged," and then said "We could, I guess."
However, later in the afternoon, Phil Schiller— in a video interview, also by Swisher—enthusiastically confirmed the presence of Facebook Connect. "You can do that, you can use your Facebook contacts to find friends who are also on Ping," said Schiller.
With all the conflicting reports coming out of the company, it's hard to nail down just what precisely happened. Was Facebook Connect planned as part of iTunes 10, then pulled afterwards at the request of Apple's CEO? Was it never supposed to be in the release at all, and some people just didn't receive the memo? Unfortunately, we're all still in the dark, as Apple has yet to return Macworld and other publications' requests for comment on this story.
If nothing else, this could just be a bug. When I tried Facebook Connect late last night, it gave me an error, saying it couldn't find any friends for me to connect with, and Engadget is reporting that they suspect this issue—"primarily on Facebook's end," they suggest—may have led to the feature's take-down. We'll keep you updated. In the meantime, if you're dying to seek out your friends on Ping, you can always search by name or e-mail.
[via All Things D, Cult of Mac]