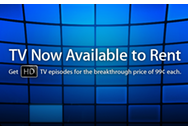 Looking to catch the most recent season of Lost, but don't want to succumb the baggage of having to buy a bunch of episodes that you'll only watch once? Relax, friend, because if you're an iTunes 10 user, you can now rent TV shows from the comfort of your very own…computer.
While Apple CEO Steve Jobs spent much of Wednesday's presentation talking about TV rentals on devices running iOS 4.1 (due next week) and the new Apple TV (due later this month), you can fire up a rental right now—as long as you don't mind watching on your Mac or PC. While some shows are available in both HD and SD and others available only in SD, they all cost just $1 to rent.
Restrictions, of course, apply: as with movies, you have 30 days to press play on your rental or it disappears back into the ether from whence it came. Once you start watching, however, you've got a full 48 hours to finish it up, so be sure and clear your schedule.
Those aren't the biggest limitations at present, however. First, you'll only have access to TV shows from two networks: ABC and Fox (as well as their associated brands like the Disney Channel and ABC Family); during Apple's event on Wednesday, Jobs said he expected other networks to sign on pretty quickly, but it remains to be seen.
In addition, you currently can't move a rental to your iPhone or iPod touch, since those devices must be running iOS 4.1 to watch rentals; Apple also says HD rentals can only be watched on the iPhone 4 or the fourth-generation iPod touch, though that may be because rentals won't work on the iPad until iOS 4.2 arrives and the new Apple TV isn't out yet. If you've got one of the present or past Apple TV models, however, you're just plain out of luck.
Rentals get downloaded to your iTunes library and appear, fittingly, under the "Rental" section in the sidebar; you can start playback as soon as the episode begins downloading, though depending on your Internet speed you may encounter fits and starts.
And if all those caveats and restrictions aren't enough to turn you off, then, ladies and gentlemen, start your rentals.
Note: When you purchase something after clicking links in our articles, we may earn a small commission. Read our affiliate link policy for more details.