As you all know, it's never a proper aftermath of an iPod event without some new cases, and we here at Macworld are more than happy to present some of the first options available for that iPod touch or nano in your pre-order basket. From protective covers to eighties-inspired wrist straps, we've got a little something for every kind of case lover—except maybe a wrist-watch adapter for the nano (and if someone wants to get on that before Halloween, I would be much obliged).
iPod touch cases
Belkin
From the looks of things, Belkin is getting ready to unleash a whole army of iPod touch cases on the unsuspecting public starting in September. The company says they've identified "five main ways people carry their iPod," and have developed three categories for the cases they've created based on this knowledge.

The first category, Grip cases, features covers like the Grip Ergo with Strap (available in translucent black or translucent taro), offering an ergonomically sound design with removable hand strap. Also in this category are the Grip Groove Duo and Grip Graphix, which add texture to increase gripability; the Grip Vue, a smooth, gloss case; and the Grip Edge, a hard leather case featuring "a unique combination of grip and style."

Two Shield cases protect your iPod touch without packing on the extra ounces—the solid-color polycarbonate Shield Eclipse with clear back window, and the super-thin snap-on Shield Mica.
Belkin's four Verve cases, meanwhile, are all about style. The Verve Cinema is a thicker leather case with built-in kickstand; the Verve Sleeve keeps the fashionista blue-stitched leather while the Verve Sleeve with Clip adds a belt-hook to the mix; and the Verve Folio adds a flippable cover for screen protection and an interior pocket for storing your credit cards, bills, and a key.
Pricing for Belkin's case line was not available as of this writing.
Griffin

Griffin has a variety of hard-shell and silicone cases to properly protect your iPod touch, and all come with the company's microStand to hold your device in place for FaceTime calls and watching video. The Motif Gloss ($20) is a black, flexible glossy shell that's scuff-and-tear resistant, while the Outfit Ice ($30) keeps your iPod safe and secure inside a single polycarbonate shell (available in matte pink, red, blue, and black).
Griffin's Elan Form Graphite ($35, available in black, white, dark blue, and pink) protects your device in two layers: an outer carbon fiber-like shield connected to an innner polycarbonate shell. And for those looking for a firm grip, the company's FormFit ($25) is a mostly-translucent silicone skin with structural bars (black or pink) criss-crossing the back.
The company has also designed a rather unusual-looking silicone case for gaming enthusiasts called the FlexGrip Action ($30). The material hugs the iPod and adds two wedge-shaped sides to each end, allowing for a comfortable grip while manipulating the device.
All Griffin's cases will be available sometime this fall.
Hard Candy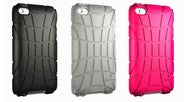 According to Hard Candy, their new "Street Skin" line for the iPod touch is targeted directly at "fashion-forward music lovers." Everyone has different opinions on what exactly constitutes forward fashion, of course, but the look of the case—available in black, grey, and pink—seems quite sleek, despite working with shock-absorbing rubber. In pink, the case also distinctly brings to mind a certain logo for a basketball-themed social network The "Street Skin" cases are priced at $30, and will be available on September 15th from the company's Website (but you can pre-order one today, if you're so inclined).
Also available from the company is a polycarbonate inverse-bubble slider shell that Hard Candy is calling the "Bubble Slider Soft Touch." The case will be available "soon" in matte red, pink, and black for $35; a metallic black and silver design, called the "Bubble Slider Chrome," will be available on September 25th for $35 as well.
iLuv

iLuv is offering a variety of tinted and silicone cases for Apple's newest iPod touch. Their Tinted PC Case with Soft Coating ($35) is a two-piece slider offering a soft rubber top piece and a hard polycarbonate bottom, while the PC Clear Case ($25) offers a similar design, without the rubber top coat.
Meanwhile, the company's Flexi-Clear Case with Pattern ($20) and its Flexi-metallic Case with 3D pattern ($25) offer a single tinted polycarbonate patterned shell available in pink, black, or clear (the metallic version offers slightly spicier colors—"metallic pink, titanium black, or white pearl"). A full-color silicone shell with a 3D pattern is also available in pink, black, or white for $15.
iLuv's cases will be available in September from the company's Website.
Incipio
California-based case-maker Incipio has updated some of the covers in its iPod touch line for the device's new design. The dermaShot, a single-cut silicone case, provides a grippy interior for your iPod without clinging to your clothes pockets. Incipio's Silicrylic, meanwhile, takes the best of both worlds, combining an exterior polycarbonate shell with a silicone interior.
If you want a thin, two-piece polycarbonate slider, the Edge case may fit the bill; or, if you're looking to spice things up, the company's dotties silicone cover comes with a variety of colored dots (15 on the shell, with another 30 to interchange), allowing you to very nearly play Mastermind on both the front and back of your iPod.
No prices were available at the time of this writing, but we expect they'll be similar to the previous generation cases available on Incipio's Website. The company's new cases are not yet available online, but should be coming soon.
Scosche

While Scosche also cares about making your iPod touch "stylish," functionality is always important, too. The company's polycarbonate and shock-resistant rubber hybrid kickBACK t4 ($30), available in black, grey, and white-with-grey-molding, features an integrated kickstand for your landscape movie-watching pleasure.
For those looking for some case variety and coloration, the company's switchBACK t4 ($35) comes with a solid frame and three interchangeable backs (choose one color pack: blue, red, black; pink, purple, white). Two of the backs are smooth polycarbonate, while the black and white backs respectively offer a hinged kickstand.

Scosche's metalliKASE t4 ($25), a polycarbonate single metallic shell with mirrored screen protector, offers something sleeker. The case comes in dark chrome (grey) and metallic (silver), and includes a micro-fiber cleaning cloth.
The beefKASE t4 ($25) is another single polycarbonate shell, this one skinned in leather with a soft felt interior. The case also offers a lower profile with more direct access to the top and bottom of the iPod.
The various Schosche cases have shipping estimates sometime in September and October, but all are available for pre-order now.
XtremeMac

Last but not least, XtremeMac has a nice collection of silicone and polycarbonate shells for Apple's newest device. The company's signature Tuffwrap silicone case comes in a two-pack (white/black, turquoise/black, or purple/black), while the Tuffwrap Tatu incudes a laser-engraved design on the back of the silicone case. The Tuffwrap Play is similar to Griffin's FlexGrip Action, providing a flexible-and-ergonomically-sound case for gaming on the iPod touch.
On the hard-shell side of things, the company has revamped their Microshield line, offering iPod touch versions of the Microshield Basic (slim one-piece plastic), Microshield Accent (plastic with a colorful rubber border), and Microshield View (a two-piece snap-together case with a hard plastic back and silicone overlay).
Pricing on these cases ranges from $13 to $30, and all will be available sometime in October from XtremeMac's Website.
iPod nano cases
Griffin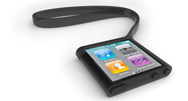 Griffin's rather amusing little case for the iPod nano is called the Wristlet ($20), a one-piece silicone design that stretches tightly over your nano to prevent it from taking any kind of undue swan dive (you are dangling it off your wrist, after all).
Incipio
Could Incipio's new case be just the watch-band substitute I was hoping for? Only time (and a photograph or two) will tell, but for now, the company describes its newest nano offering, the Linq Wristband, as a hybrid soft/hard polymer case (utilizing NGP material) attached to an adjustable, color-interchangeable nylon and Velcro strap.
Scosche

Schosche is offering two different cases for Apple's touch-screen iPod nano: a 3-pack of silicone enclosures (available in lighter and darker colors called tightGrip ($20), and the soundKASE t6 ($20), an adjustable neoprene armband for exercise enthusiasts.
XtremeMac
Steve Jobs might insist that the nano no longer needs an armband, but XtremeMac's banking that some of you may think otherwise. The XtremeMac Sportwrap (available in October) provides runners and others with a lightweight lycra-and-neoprene armband designed to securely hold that nano in place during any sort of exercise routine. The case also provides an anti-glare front for controlling it in the sun, and removable cord wrap for those pesky earbuds.