At a Glance
Expert's Rating
Pros
Highly expandable
Easily accessible case design
Cons
Expensive compared to other desktop Macs
Not all applications benefit from extra processing cores
Our Verdict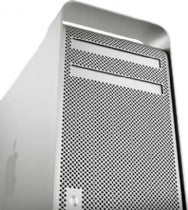 These days, the consumer-oriented iMacs stand on their own against (and in some cases, surpass) the Mac Pro in day-to-day performance. Does that mean that the Mac Pro has lost its relevance in today's work environment? Hardly.
The Mac Pro continues to be all about expandability and customization. There are literally billions of configuration combinations available, from four to 12 processing cores, from one to four hard drives or SSDs, up to 32GB of RAM, an Apple RAID card, multiple graphics cards, and more. Anyone who's struggled to install anything more than RAM in the rest of Apple's Mac lineup can appreciate how easily these components can be accessed, swapped and installed on the Mac Pro.
Another advantage the Mac Pro has is its use of multiple processors with multiple cores. Though programs that take full advantage of up to 24 virtual processing cores are scarce, for the people using Mathematica, Cinema 4D and other high-end software, the performance advantage is undeniable.
The Mac Pro also offers display versatility. Many users despise the glossy screens found on the iMac; some need larger or smaller displays with high-end color control and accuracy for color critical work. With an iMac, you're stuck with what Apple offers. With a Mac Pro, you can use a display you like, and connect two or more displays, if needed.
Apple released three new Mac Pro models in August. Two models will be reviewed in this article. The $2499 model has a 2.8GHz quad-core Intel Xeon Nehalem processor with 3GB of RAM, a 1TB hard drive and a 1GB ATI Radeon HD 5770 graphics card. The $3499 model has two 2.4GHz quad-core Intel Xeon Westmere processors (eight cores total) with the same hard drive and graphics, but 6GB of RAM. Both systems include an 18X DVD-burning SuperDrive with dual layer burning support.
Apple also sells a 12-core Mac Pro model ($4999) that we will review soon. We're also working on reports that examine performance with different RAM configurations, graphic card options, and optional processor upgrades. (Macworld reviews and rates only standard configurations. We don't review and rate custom-configured Macs, but we will test them and post the results.)
Some things never seem to change
Externally, the Mac Pro's case design hasn't changed since the line's introduction in August 2006. And with the exception of the second optical drive slot, the case is pretty much the same as the Power Macintosh G5 model introduced in June of 2003.
Internal changes have been made over the years, but this latest model doesn't introduce any, keeping the processor and RAM riser card that first showed up in last year's Mac Pro.
The Mac Pro has two FireWire 800 ports, two USB 2.0 ports, and a headphone jack conveniently located on the front of the case. On the back you'll find two additional FireWire 800 ports, three USB 2.0 ports, two Gigabit Ethernet ports, optical audio in and out ports, and analog audio in and out ports.
Welcome, Westmere
The entry-level $2499 Mac Pro has a single quad-core 2.8GHz Xeon Nehalem processor. This is the same processor that debuted in the last generation of Mac Pros, but running at a faster clock speed. The $3499 eight-core 2.4GHz Mac Pro (as well as the six- and 12-core models) marks the debut of Intel's Westmere Xeon processors on the Mac. Based on a 32nm process (as opposed to Nehalem's 45nm process), the new Westmere offers up to six cores per processor, while providing a 50 percent larger L3 cache (12MB shared per processor instead of 8MB) than the Nehalem processors.
Both the Westmere and Nehalem processors support Intel's HyperThreading (which can offer twice as many virtual cores to programs that can make use of them) and TurboBoost (which powers down unused cores and provides more power to the one or two cores active cores).
There is one other subtle change. The new Mac Pro models are the first Mac OS X systems to use a 64-bit kernel by default. Some systems running OS X Server have already made the switch.
iMacs and MacBook Pros from early 2008 and later can use the 64-bit kernel, but by default launch the 32-bit kernel. Software and hardware that require kernel extensions may need to be updated to work with the 64-bit kernel. You can force the Mac Pro to use the 32-bit kernel by holding down the 3 and 2 keys on your keyboard during startup. Hold down the 6 and 4 to start using the 64-bit kernel again.
New graphics
A 1GB ATI Radeon HD 5770 graphics card replaces the 512MB nVidia GeForce GT 120 found in the previous generation of Mac Pros. Apple claims this new card is up to five times faster than the GeForce GT 120.
For $200 more, you can configure your Mac Pro with an ATI Radeon HD 5870, a higher-end card that Apple says claims to be 70 percent faster than the standard-issue ATI Radeon HD 5770. Each card can support up to three monitors, with two Mini DisplayPorts and one dual-link DVI port.
Quad-core and eight-core Mac Pros: Speedmark 6 scores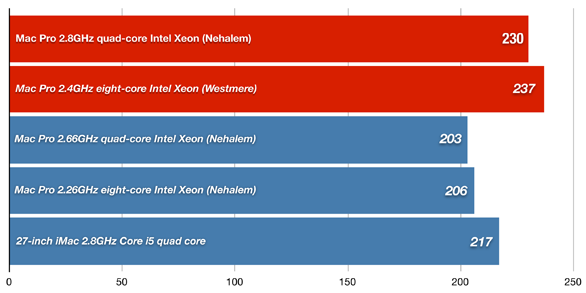 Compared to the previous $2499 Mac Pro with its single quad-core 2.66GHz Intel Xeon Nehalem processor, 3GB of RAM, a 640GB hard drive, and 512MB nVidia GeForce GT 120 graphics card, the new 2.8GHz quad-core Mac Pro was 13 percent faster overall in our Speedmark 6 benchmark suite of tests. Most tests were just a few seconds faster on the new Mac Pro, though there was a big gain in graphics performance, with the Radion HD 5770 able to display 87.7 frames per second in our Call of Duty test, while the GeForce GT 120 in the older system managed to display just 49.3 frames per second. iPhoto importing was 18 percent faster and iMovie exporting was nearly 30 percent faster on the new 2.8GHz Quad Core Mac Pro.
Overall, the new 2.4GHz eight-core model was only 3 percent faster than the new 2.8GHz quad-core Mac Pro. When we look at individual test results, however, we see that the eight-core system is much faster with the programs that take full advantage of multiple cores. MathematicaMark, for example, scored nearly 44 percent higher on the eight-core system than the new quad-core system. Cinebench was 28 percent faster on the eight-core system. With many programs, though, having fewer but faster processors was preferable, which gave the quad core 2.8GHz Mac Pro an edge over the eight-core 2.4GHz Mac Pro in our tests for Aperture, iTunes, and Photoshop. Even our Compressor test showed the quad core Mac Pro to be 4 percent faster.
Comparing the new 2.4GHz eight-core Mac Pro to its predecessor, a 2.26GHz eight-core model, we see a 15 percent improvement in our Speedmark 6 overall system performance test suite. Times for the new eight-core system were faster performance across the board, again with the biggest gain coming in our graphics tests.
Comparing the new quad-core 2.8GHz Mac Pro to the $1999 27-inch iMac with a 2.8GHz Core i5 quad-core processor, the Mac Pro scores almost 6 percent higher overall, with wins in Photoshop (10 percent), Cinebench and MathematicaMark (17 percent for both). Both iMovie tests and the Finder Unzip tests were also faster on the Mac Pro. The iMac finished the compressor test a little less than 3 percent faster than the quad core Mac Pro and was 11 percent faster at the iTunes encoding tests.
Quad-core and 8-core Mac Pro (Mid 2010) benchmarks
| | Speedmark 6 | Adobe Photoshop CS4 | Cinebench R10 | Mathemetica- Mark 7 | Compressor 3.0.4 | Aperture 2.1.4 | iMovie '09 | iMovie '09 | iTunes 9 | Call of Duty 4 | Finder | Parallels WorldBench 6 | Handbrake 0.9.3 | iPhoto '09 |
| --- | --- | --- | --- | --- | --- | --- | --- | --- | --- | --- | --- | --- | --- | --- |
| | OVERALL SCORE | SUITE | RENDER | SCORE | MPEG ENCODE | IMPORT | IMPORT ARCHIVE | EXPORT | MP3 ENCODE | FRAME RATE | UNZIP ARCHIVE | MULTI-TASK TEST | RIP DVD CHAPTER | IMPORT |
| Mac Pro 2.8GHz quad-core Intel Xeon (Nehalem) | 230 | 0:36 | 0:57 | 11.8 | 5:47 | 1:34 | 1:03 | 0:55 | 1:05 | 87.7 | 0:38 | 4:13 | 1:14 | 0:22 |
| Mac Pro 2.4GHz eight-core Intel Xeon (Westmere) | 237 | 0:42 | 0:41 | 20.9 | 6:02 | 1:37 | 0:50 | 0:57 | 1:09 | 87.1 | 0:37 | 4:42 | 1:10 | 0:22 |
| Mac Pro 2.66GHz quad-core Intel Xeon (Nehalem) | 203 | 0:38 | 1:00 | 11.1 | 6:17 | 1:36 | 1:09 | 1:18 | 1:10 | 49.3 | 0:44 | 4:27 | 1:15 | 0:27 |
| Mac Pro 2.26GHz eight-core Intel Xeon (Nehalem) | 206 | 0:42 | 0:45 | 19.5 | 6:33 | 1:45 | 0:57 | 1:24 | 1:15 | 50.4 | 0:41 | 5:00 | 1:10 | 0:28 |
| 27-inch iMac 2.8GHz Core i5 quad core | 217 | 0:40 | 1:09 | 10.1 | 5:36 | 1:47 | 1:17 | 0:57 | 0:58 | 88.1 | 0:44 | 4:03 | 1:01 | 0:22 |
Best results in bold. Reference systems in italics.
Macworld's buying advice
Based on performance alone, it seems like the Mac Pro addresses a smaller market each time a new iMac appears. But there remains a need for a highly configurable and fast performing Mac. The new Mac Pros may be little more than speed bumps from the systems they replace, but they do offer better performance at the same price, while offering even more options for customization. Whether your type of work requires a certain kind of display, add in card, or tons of internal storage, the Mac Pro offers power users the flexibility to create a system custom fit to fill their needs.
[James Galbraith is Macworld's lab director.]