Blaze: Fire Puzzle is a bright, shining example of great game design. For those inclined towards puzzle games, Handmark's app provides a certain amount of physical awareness that makes the experience more than fun, but meditative. Soothing graphics and sounds are fused with a clever, yet simple game to create an app you'll keep returning to.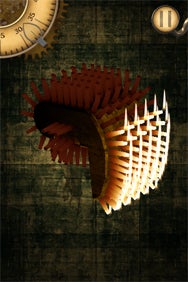 To win at Blaze, players aim to light every candle on a floating shape. Each level presents a different shape (for instance a cube or a coil) with a different degree of difficulty. To begin, one candle is lit, and the object must be tilted and spun in such a way that the flame of the original candle touches the wick of an unlit fuse. Succeeding in this game is often a matter of slowly rotating the objects at a consistent speed. Careful: this is not as simple as it sounds. The candles in Blaze melt down to nothing and extinguish in under a minute. This doesn't necessarily mean that a round is lost when a candle (or even several) goes out, but it does mean, players must work harder to beat the clock. A small device in the upper left corner of the screen denotes what percent of the candles are lit. As the wax runs out, however, the numbers plummet rather quickly, and if the majority of candles are unlit by the end of the round, that level is lost.
Not many iPhone games require players to have a sense of depth. While the phone screen isn't 3D (yet!), Blaze demands that you think of it in those terms. The dark, shadowed graphics and classical music make it easy to get lost in the game, and imagine that the candles are actual objects that comply to the rules of real physics.
Higher levels force you to experiment with strange angles, and I even found myself lighting the candles while they were out of sight, for the sake of saving time without having to turn them around. In terms of difficulty, I wouldn't say that Blaze is hard. I consistently completed each challenge before too many candles burnt out. However, the looming task of finishing each level a little faster often prompted me to replay each round again and again, shaving seconds off of my final time each try.
Puzzle fans will enjoy Blaze because it's both physically and logically challenging. It requires a certain amount of dexterity, but also takes good planning. Overall, what will keep players coming back to Blaze is the pleasant, soothing experience of playing a tricky puzzle game in the glow of flickering candles.
[Stephanie Kent is an editorial intern for Macworld.]