Think you know the songs in your iTunes library? Perhaps you should try your hand at iMusic Puzzle, a $0.99 game from I-Play that uses the files in your iTunes to make music puzzles.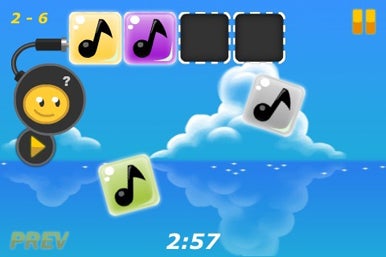 iMusic Puzzle takes a clip from a song in your library and breaks it up into several different pieces—your job is to reassemble the clip within the allotted time. You are allowed to listen to the full clip three times before you have to reassemble it—the levels get harder as the game progresses, with more pieces to assemble and fake pieces (from other parts of the same song) thrown in. There are also two types of bonus puzzles: a match-up puzzle (matching pairs of clips), and an organizing game (you have to drag clips from several different songs into the right place in order—without the aid of the other clips).
There are two modes of play: arcade and quick play. Arcade takes you through several levels of puzzles (four rounds), while quick play will let you choose which songs you want to play with. iMusic Puzzle also features Open Feint, so you can compare your scores with friends and random strangers.
The game is cute, although not visually stunning, and the arcade mode took me about an hour to get through. The graphics are cartoonish and seem very kid friendly, which makes for a funny contrast if your music library contains any explicit songs. This game is particularly easy if you have fewer than 28 songs in your iTunes library…and particularly hard if those songs are all Deadmau5 trance tracks.
You're sure to enjoy iMusic Puzzle for at least a little while, because, after all, you do like your iTunes music, don't you?
[Sarah Jacobsson is a frequent contributor to Macworld.]
Note: When you purchase something after clicking links in our articles, we may earn a small commission. Read our affiliate link policy for more details.