Since Facebook has yet to release a native iPad app—or give any real indication that one is in the works—third parties have capitalized on the opportunity to various degrees. Facebook's desktop Website has a number of quirks and features that do not work properly on touch-based devices, and Social is the latest attempt at providing a full, native Facebook experience on the iPad.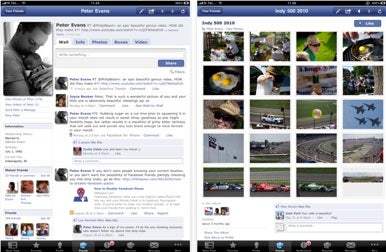 Built by independent developer Christian Arild Strommen, Social for the iPad offers a thorough Facebook experience, allowing you to browse the site, your friends, and product or company pages; upload photos; create albums; and send private messages. You can create groups, events, and pages; search Facebook; reply to friendship requests; and browse and comment on photos.
Social offers all these options with native iPad controls, and toolbars at the top and bottom provide a familiar touch-friendly experience. There is also a Favorites tab, separate from Facebook's own similar features, that allows you to create a quick-access list of the friends and pages that you frequently visit.
While Social appears to wrap Facebook's desktop-friendly site in an iPad app—similar to competitors like Friendly—it also exposes some of Facebook's controls that are designed for a keyboard and mouse environment. For example, buttons to hide others' posts or delete your own posts only appear on mouseover in a desktop browser, but Social displays them on each post so you can still have that control on your iPad.
Social also offers Facebook Chat (though with an "experimental" disclaimer for now), and like Apple's iPod app, it lets you customize the bottom toolbar with the buttons and features that you use most.
Social is available now in the App Store at an introductory price of $2. It requires an iPad running iOS 3.2 or later.