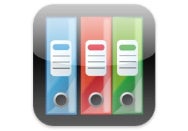 If you're one of those people who likes to keep their life organized (or, like me, one of those people who forget everything all the time), you may appreciate Apimac's recently-announced release of a version of its iDatabase product that runs on OS X.
As its name implies, iDatabase is a "personal database management" solution that you can use to create customized date-centric interfaces for activities like tracking your calorie consumption, keeping tabs on your expenses or creating a catalogue of your movies.
Until now, Apimac's product has been designed to only run on iOS devices; the new release brings iDatabase to the Mac with an OS X client that features a similar interface and workflow, adapted to work with Apple's desktop operating system.
According to the company, iDatabase for OS X is virtually identical in features, layout and operation to its iOS cousin; the two versions are capable of bi-directional syncing over Wi-Fi and, in addition to supporting the development of completely customizable database, come with sixteen convenient templates for activities ranging from an exercise log to vehicle maintenance reminder.
iDatabase 1.0 for OS X, which requires a Mac running version 10.5.8 or higher of the operating system, costs $29 and can be purchased directly from Apimac's Website. The company also offers a free trial.