Quincy Jones is a legendary record producer and composer responsible for producing Michael Jackson's Thriller album as well as the hit charity song "We Are the World," so when he gets behind an audio product, it probably deserves some attention. The product in question this time around is a new line of headphones by Harman AKG, which the company is releasing under its new Quincy Jones Signature Line.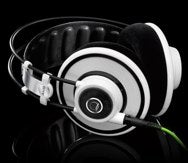 The Q701 reference-class premium over-ears model (pictured) is the flagship model of the Quincy Jones Signature Line. It features an open-back design and a patented Varimotion two-layer diaphragm. The headphones use high-performance neodymium magnets and feature unique "3D-Form" ear pads for better fit. This kind of high performance sonic bliss comes at a price, however, and the Q701 will set you back $480.
The Q460 high-performance portable on-ear mini headphones has smaller earpieces than the Q701, and they rest against your ear rather than encompassing your entire ear like the over-ears model. The Q460 boasts a lightweight, comfortable design that blocks out most ambient noise. It can also be used to make and receive calls on your smartphone and features controls that can be used to control your iPhone's playback functions. Harman AKG didn't state the price of the Q460 in its press release, but Engadget reports it will sell at $230.
The $150 Q350 in-ear headphones are the most portable of the bunch, but don't let the small size fool you. They deliver high accuracy sound and are also iPhone compatible, featuring built-in playback control buttons and an in-line microphone for calls.