Editor's Note: The following article is reprinted from Macworld UK. Visit Macworld UK's blog page for the latest Mac news from across the Atlantic.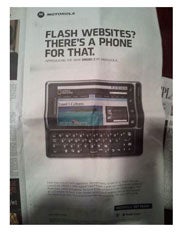 Motorola has lashed out at at Apple with yet another ad, this time highlighting the lack of Adobe Flash on the iPhone.
The newspaper ad for the Droid 2, introduced at the weekend in the U.S., apes Apple's "There's an app for that" slogan with "Flash websites? There's a phone for that. Introducing the new Droid 2 by Motorola.""
The ad goes on to promise no empty pages or half-loaded page, with Motorola claiming compromise-free Web browsing via the Droid 2, which runs on Google's Android 2.2 operating sytem and uses Adobe Flash Player 10.
Motorola previously targeted iPhone 4 reception issues in an earlier ad, shortly after Apple introduced the smartphone.
[Via Benforta @ Twitter and Techtree ]