At a Glance
Expert's Rating
Pros
Compact size
Multi-Touch display and interface improve many interactions
Better media-browsing performance than previous models
Convenient clip
Cons
No physical playback buttons, but ships with basic earbuds instead of remote/mic version
Same price as previous version despite cheaper earbuds, a smaller screen, and no video-watching and -recording features
Multi-Touch sometimes feels more gimicky than useful
Our Verdict
No iPod model has received as many makeovers—both minor and dramatic—as the iPod nano. (Perhaps not coincidentally, no other iPod model has sold as well.) The original nano was simply a scaled-down version of the standard iPod—tall and thin with a shiny, steel back and a white-plastic front, but the first revision gave the nano an all-aluminum body. The third version brought a short-and-wide shape, but the nano returned to tall and thin in the fourth go-round. The the most-recent nano, the fifth in as many years, got a larger screen and a video camera. But one thing all nano models have had in common is the traditional iPod design: a screen at the top with Apple's iconic Click Wheel below.
No longer. With the release of the sixth-generation (6G) iPod nano, the line has received its most dramatic redesign yet, and the Click Wheel is nowhere to be found. In its place you'll find a Multi-Touch screen similar to—but much smaller than—the one on Apple's iOS devices.
Hip to be square
The new nano, available in the same 8GB and 16GB capacities as before but in seven new colors, still wears an aluminum shell, but it now takes a considerably smaller shape: Instead of rectangular, it's nearly square at just 1.5 inches tall and 1.6 inches wide. But the 6G nano is also the thickest nano yet—0.35 inches—thanks to a built-in, spring-loaded clip, a la the iPod shuffle. The clip is grippy enough to keep the nano attached to your shirt sleeve during moderate activity, though the nano is heavy enough that you'll want to clip it somewhere safer during vigorous exercise.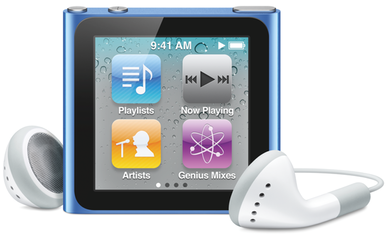 On the bottom of the new nano, you'll find Apple's 30-pin dock-connector port, as well as a 1/8-inch (3.5mm) headphone jack. We'll have more on accessory compatibility soon, but for the most part, dock-connector accessories that worked with the previous iPod nano should work with this one. The nano ships with Apple's USB dock-connector cable and standard earbuds. As with most recent iPods, not included are an AC adapter—unless you buy one separately, you charge the nano while syncing using your computer's USB port—and an adapter for dock accessories that use Apple's Universal Dock design. (Apple's online store doesn't yet list a compatible dock adapter for sale.)
On the top of the nano are a Sleep/Wake button and shuffle-like Volume Down and Volume Up buttons. In fact, between its volume buttons, shape, and clip, the new nano looks very much like an oversized version of the new iPod shuffle. Well, except for the fact that it has no playback buttons.
Can touch this
"No playback buttons? You mean this is another third-generation iPod shuffle debacle?" Not exactly. The front of the new nano sports a square (1.54-inch diagonal) LCD display with a resolution of 240 by 240 pixels. This display is quite a bit smaller than the 240-by-376-pixel display of the 5G iPod nano, but the new screen mostly makes up for its smaller size with Multi-Touch functionality: you control most of the nano's features by touching the screen.
If you've ever used an iPhone or an iPod touch, this touch-based interface will be familiar. You press the Sleep/Wake button to turn on the screen, and in place of the traditional iPod interface of hierarchical menus listing functions and media, you now see "app" icons floating over a user-configurable background (the nano includes different backgrounds based on the color of your iPod)—four icons per screen, with one icon for each major feature or category: Playlists, Now Playing, Artists, Genius Mixes, Radio, Podcasts, Photos, Settings, Songs, Albums, Genres, Composers, Fitness, Clock, Audiobooks (if you've synced one or more audiobooks to the iPod), and (if a microphone is attached) Voice Memos. You swipe the screen to the left or right to view another group of four, and you tap an icon to open that "app." You swipe up and down to scroll lists of, say, tracks or artists.
(I use "app" in quotes because although the new iPod nano's interface looks very much like something you'd find on an iOS device—the Settings icon is even identical to the icon for the iOS Settings app—Apple told Macworld that the nano isn't actually running iOS, and you can't install new apps or manage apps from within iTunes. However, as with iOS, you can tap-and-hold on any icon until all the icons start shaking, and then rearrange the nano's icons so, for example, your four most frequently used functions are on the first screen—one of my favorite features.)
For many tasks, the Multi-Touch display and iOS-like interface are dramatic improvements over the older, Click Wheel-navigated menus. For example, scrolling through a long list of tracks or artists with a few flicks of the finger is as easy on the new nano as it is on an iPhone or iPod touch. You even get the same alphabetic index on the right edge of the screen that lets you quickly jump to, say, tracks starting with the letter R. If track information is too long to fit on the screen, a swipe to the left tells the nano to scroll that information. And during music playback, you can swipe left and right to switch the screen view between playback controls, playback options (repeat, shuffle, scrubbing, and Genius), and lyrics, all of which float over the current track's album art.

Similarly, some of the features that were present on previous nanos are now much more useful. Perhaps the best example of this is photo viewing: you flip between pictures by simply flicking your finger across the screen, and you double-tap to zoom in and out, just as you would on an iPhone. And tuning the built-in FM radio is much easier than before—you just swipe left or right to move the "dial" in large increments, making smaller gestures to pinpoint a particular station. And setting presets is as simple as tapping the star at the bottom of the screen.
Also improved is scrubbing through a track, which now works just as it does on iOS devices: Drag your finger left or right on the timeline to scrub, and adjust the scrub speed by dragging your finger up or down on the screen. Editing playlists is also dramatically easier, and when rating a track, you just tap the desired rating star, rather than having to "spin" the Click Wheel to highlight the desired rating. (Oddly enough, the rating option is hidden behind a tiny i—info—button, rather than visible on one of a track's swipe-to-access screens.)
Another standout feature made possible by Multi-Touch is that you can rotate the nano's entire interface, 90 degrees at a time, by placing two fingers on the screen and twisting clockwise or counter-clockwise. This is a great option that lets you view the nano's screen "right-side-up" regardless of where the iPod is clipped or how it's oriented.
Finally, I don't know if there's better hardware inside the new nano compared to previous models, or if the new interface is just more efficient—or both—but the 6G nano is as spry as it is tiny. There's no delay while the iPod "loads" a long lists of tracks, and there are no visual hiccups while scrolling long lists—a 2000-track list glides as smoothly on the iPod nano as it does on an iPhone.
Multi-Touch misses
At 220 pixels per inch (PPI), the new nano's screen is clear and easy to read—it has a higher pixel density than the screen on any iPod except the latest iPod touch. But the tiny size of that screen means Apple has had to take creative license with the iOS-style interface. For example, whereas most multi-screen iPhone apps feature navigation buttons at the top or bottom of the screen, there's no room for such niceties on the nano. Instead, you usually switch screens by swiping the screen to the left or right. This is simple enough, but it's not always clear when the gesture will work. For example, when viewing the Songs list, will swiping to the right take you back up to the home screen? (Answer: yes, but you only know this if you happened to have tried it previously.) Throughout the interface, the fact that there's rarely a visual indication of when you can or can't swipe means that you end up swiping to the left and right on every screen to see if anything happens.
Similarly, when browsing lists, the small screen size means you see only three and a half entries—track names, artist names, and the like—at a time, so you end up swiping and scrolling a lot. (There's no way to adjust the font size to be able to view more items at a time.) And the small screen means there's not a lot of difference between a large "change screens" swipe and a smaller "do something on this screen" swipe—during my week with the nano, I often performed the wrong swipe, initiating an unintended action. And the new nano's small size means that, unlike on iOS devices, there's no physical Home button. Instead, if you tap-and-hold for a few seconds on an area of the screen with no controls, you return to the Home screen. But in many cases it's easier to just swipe to the right as many times as it takes to get there.
Finally, a minor consequence of the nano's size is that since the small screen has no title bar, there's no option for a title-bar clock. Instead, you can choose to have a new full-screen clock appear whenever you wake the nano, but that adds another tap—to dismiss the clock—before you can start whatever action you woke the iPod to perform. (And since there's no setting for adjusting the length of time before the screen goes to sleep—the screen dims after 20 seconds and goes to sleep completely after 60 seconds—you end up performing this extra tap frequently.)
The big question, for me, is why the nano's screen had to be so small. Given the existence of the iPod shuffle, there doesn't seem to have been a compelling need for another as-small-as-we-can-make-it iPod, and a slightly larger design would have allowed for a larger screen. For example, a rectangular nano—perhaps the same width, just a bit longer, with a screen similar in size to that of the 5G nano—would have been considerably more useful, allowing you to view at least five items on the screen at a time, instead of three and a half, perhaps with enough room left over for more onscreen navigational aids. Of course, battery life would suffer a bit with a larger touchscreen, but the nano's battery life is impressive enough that losing a few hours of playback time would be an acceptable compromise for many users.
Back for more
Multi-Touch screen out of the way, it's worth running down the features from previous nano generations that are still here because, as I'll get to in a moment, Apple has dropped a few notable capabilities this time around.
Like its predecessor, the 6G iPod nano continues to support most common audio-file formats, including podcasts and audiobooks, and has an advertised battery life of up to 24 hours. (We'll follow up later with our battery-test results.) It also lets you view photos synced via iTunes and, provided you have the right cable, output those photos to a TV—although photos synced to the nano are scaled down considerably. You can also use the new iPod nano for data storage.
There's still the aforementioned FM radio with multi-region support, iTunes Tagging, and the capability to pause live radio using a 15-minute buffer. New, though, is a feature to automatically scan for—and quickly access—stations in your area. You also still get a built-in pedometer and built-in Nike + iPod app—though the Nike + iPod dongle is still required. The new nano continues to include a built-in accelerometer, although this time around it's used only for the pedometer and the Shake To Shuffle feature. (The previous nano used the accelerometer to automatically reorient the screen when you rotated the device.)
The nano's clock feature still includes stopwatch and timer modes which, of course, you access by swiping to the left when viewing the clock. And provided you connect headphones with a built-in microphone, you can still record voice memos.
The new nano also continues to offer accessibility features such as mono audio and VoiceOver—the latter being the feature that lets you, for example, hear information about what's playing, and choose a playlist by listening to spoken prompts. However, as I'll get to in a moment, you'll need to purchase new headphones to take advantage of all the nano's VoiceOver capabilities. New to the 6G nano is an inverted-color mode for "white-on-black" visuals.
Finally, in my testing the iPod nano continues to offer good audio performance—assuming, of course, you feed it quality audio files. A devoted audiophile might quibble with the nano's audio output compared to a higher-end component, but most iPod nano owners will be using the device on the go, and in that context, it sounds great.
Missing in action
At the same time, the 6G iPod nano is missing quite a few features compared to previous models. Perhaps the most-talked-about omissions relate to video: The built-in video camera that debuted with the fifth-generation nano also dies with that model, and unlike the previous three nano generations, you can no longer sync videos to the nano and watch them on its screen or on your TV. As we noted in our roundup of iPod questions and answers, the new line of iPods clearly divides Apple's portable line into music-only and video-focused devices, and the 6G iPod nano is on the music side of the fence. Similarly, the new nano loses the capability to play games. (Granted, games made for Click Wheel iPods simply wouldn't work on the new nano, but what's to say a touchscreen nano couldn't play new games?)
But I'm fine with those particular changes. I know I don't speak for all iPod nano owners, by in my experience both as a user and in talking with other iPod users, the 5G nano's video capabilities—both recording and watching—went unused (or at least underused) by many people. The screen was small for watching video, the camera's quality was mediocre, and the overall experience could be summed up as "OK in a pinch."
Other cuts that are unlikely to be met by angry hordes of users include the media-search feature, the option for choosing audiobook playback speed, and the capability to sync contacts, calendars, and notes to the iPod.
The most significant drawback compared to last year's model, at least in my testing, has to do with playback control. Once you've used the new nano's Multi-Touch interface, it's safe to say you won't miss the Click Wheel, at least when it comes to navigating onscreen elements. Where you may miss it is when trying to quickly control playback. As useful as the Multi-Touch screen can be, it's no substitute for physical playback controls when, say, the iPod is in your pocket, or when you're trying to skip tracks while running or driving.
This lack of physical playback controls would be easier to overlook if the new nano included Apple's Earphones with Remote and Mic. These earbuds include an inline remote-control module that lets you adjust volume, toggle Play/Pause, skip or scan forward or back, and access some VoiceOver features. Disappointingly, the 6G nano includes Apple's older, standard earbuds—the ones without the three-button remote and microphone.
What this means is that if you want to control playback, you must pull out the nano so you can see its screen, then wake up the iPod, then navigate to the appropriate screen. This isn't too much of an inconvenience in some situations, but I found it to be a hassle during active use. (This is, of course, ironic, considering the popularity of the iPod nano as an "active" iPod—a use for which it could have been even more appealing now, thanks to its smaller size and built-in clip.) Given the lack of physical playback buttons, and the $149 or $179 price tag of the new nano models, this omission seems especially shortsighted (or, depending on how you look at it, like a prime opportunity for Apple to sell more Earphones with Remote and Mic.)
Omitting the earbuds with the inline remote and mic also limits the nano's VoiceOver feature. Whereas you can press-and-hold the play/pause button on that remote to hear information about the current track or, with the help of the volume up and down buttons, choose a playlist, performing these tasks using VoiceOver without the inline remote requires turning on the full VoiceOver interface, significantly altering the way you interact with the touchscreen. And getting track information or choosing a playlist is a much more complicated task using VoiceOver on the screen than it is using an inline remote.
The good news is that Apple's inline-remote design has now been around for a few years, so you've got plenty of choices for third-party headphones—with much better sound quality and a variety of designs—that feature a compatible three-button inline remote.
Macworld's buying advice
The new iPod nano is a bit of an enigma. On the one hand, its size and touchscreen interface are sure to generate oohs and aahs, and in many cases provide genuine—and substantial—benefits. On the other hand, the new interface suffers a bit from being confined to a tiny screen, features found on previous models are missing, and the lack of physical playback controls (or at least Apple's inline-remote earbuds) means the device is less usable than it could be, especially in precisely the environments where it should excel: at the gym and on the go. A slightly larger screen and either basic physical playback controls or Apple's remote-equipped earbuds would have made for a stellar music player, despite the "lost" features.
Perhaps it's better to think of the new iPod nano as version 1.0 of a completely new device, rather than the sixth generation of an existing iPod. If you've always wanted the touchscreen interface of the iPod touch on a smaller, audio-only device, the new nano is a pretty good 1.0 product, but it's got enough room for improvement that I'm already looking forward to next year's model.
[Dan Frakes is a senior editor at Macworld.]
Updated 9/7/10, 8pm to correct error about Nike + iPod support. The Nike + iPod dongle is required. Updated 9/8/10, 10:50am to correct error about the previous nano including Apple's earbuds with remote and microphone.