I admit it; I'm one of those annoying people you see singing along to music while driving. Since I'm a guitar player, though, a lot of the time I'm actually "singing" the guitar or bass part to the songs. Apparently the developers of the $3 VoiceBand at Wave Machines Labs do the same thing because they've developed an app that attempts to transmogrify your voice into the sound of various musical instruments.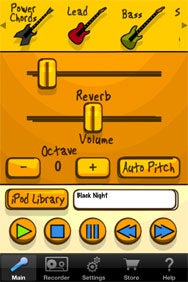 The premise sounds fairly simple: (1) choose from one of the available instruments, (2) choose from various effects, like delay or reverb, then (3) start "singing" scat-style. The app uses the pitch and dynamics of your voice to produce a sound comparable to the chosen instrument. For example, to control the kick/snare instrument, a soft vocal sound produces the bass drum kick, while a more explosive sound produces the snare drum. Voice Band provides ten different instruments, including several guitars bass and drum/cymbal sounds, with the ability to purchase more instruments from within the app.
Of the various instruments, the microphone sounds the most authentic since it's really not an instrument per se, so it's not altering your voice apart from any effects you might choose. I found that most of the other instruments require quite a bit of practice to produce something that sounds decent. There's an auto-tune feature which is designed to help keep your tracks on pitch and a metronome to help you stay in time. You also have the ability to sing along with tracks from your music library.
Perhaps Voice Band's most interesting feature is its multi-track recorder which lets you record a song by layering one instrument on top of another. (The developer's Website provides a good video demonstration using the Lenny Kravitz song Fly Away.) You definitely need to master the technique, though, if you want your recordings to be anything close to listenable.
One thing that bothers my perfectionist tendencies, though—when you record a track, it gets automatically merged into the track you're playing along with. If you mess up, you can always abandon that recording, re-load the original track and start again, but that seems awfully cumbersome. It would work so much better if you could save each track as a separate recording and then mix them together yourself. Of course, mixing multiple tracks might be an awfully difficult task on a screen as small as the iPhone or the iPod touch, but that seems like a perfect application for the iPad's larger display. (Speaking of which, the app functions the same on the iPad, but it is not a native iPad app so it works at the iPhone's screen size, or simply blown up to twice that size if you prefer.)
I'm really attracted to apps that either give musicians a different spin on creating music or allow non-musicians to create their own music. Voice Band definitely fills both of those bills, but, just like learning to play a "real" musical instrument, it can take lots of time, patience and determination in order to get it right.
[Brian Beam is a guitar player, Robin Trower fan and partner with BOLD Internet Solutions, living somewhere near Kansas City.]