At a Glance
Expert's Rating
Pros
New social network for discovering music
HD TV show rentals
A few more customizable, useful interface options
Smarter album art list view
Noticeable performance improvements
Cons
Ping feels unfinished
Other headline features won't mature for some time
Senseless interface changes harm usability
Ringtone features removed
Our Verdict
Apple has apparently added "update iTunes" to its yearly September media event to-do list. Along with a new iPod nano and iPod shuffle, a revamped iPod touch, and a refreshed Apple TV, Apple delivered the third iTunes version update in as many years, iTunes 10.
Now, I don't think you could be blamed for assuming that iTunes 10 is a major update—after all, 10 is a big number, and it marks iTunes's debut in the double digits. But Apple seems to have used some restraint this time around, introducing only one major new feature and noticeably improving performance, but still lathering its typical and haphazard coat of interface changes.
Ping me
The one major new feature in iTunes 10 is Ping, which Macworld has already spent a bit of time with, so I don't want to rewrite too much of our introduction. In a nutshell, Ping is a new, optional social network for music that Apple built into iTunes 10. Friends can follow, view, and comment on each others's new purchases and songs they "like," and stay on top of upcoming concerts. Artists can create their own store pages, interact with fans, and post photos and videos.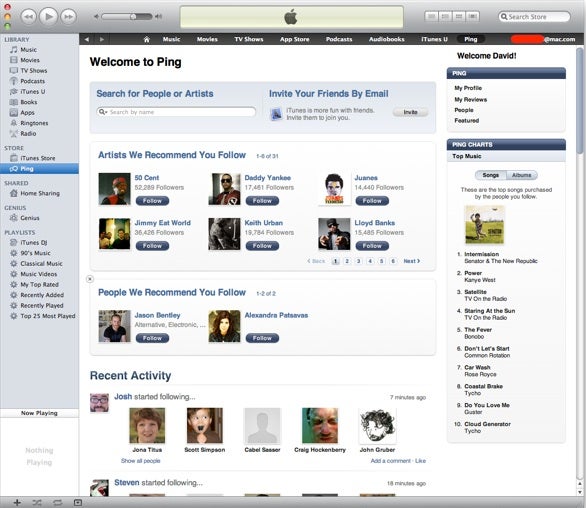 Ping is Apple's first stab at reintroducing some of the social elements that have been lost in the evolution from traditional forms of distribution to digital media. We don't run down to the local music shop anymore to argue with our friends and the know-it-all-clerk over which album marked our favorite band's fall from grace. We click to download music and, at best, post our favorite new song or album to Facebook or Twitter.
But now, instead of clicking to share our favorite new album on Facebook or Twitter, we can… click to share it on Apple's social network instead of someone else's. Within 48 hours of releasing it, Apple boasted that over one million users have signed up for Ping. Beyond that inevitable spike of early adopters, though, we'll have to wait and see if Apple's first foray into making the iTunes Store more social will resonate with a meaningful percentage of users.
In the context of Apple's efforts on the Web, Ping is a decent 1.0. It does what it says on the tin, and it's fun to see what my friends are buying and let other friends from across the country jump into the conversation. But Apple's not a social networking company, and it arguably isn't very good at the Web (Exhibits A and B: iWeb and MobileMe's rocky birth). Stepping out of Apple's bubble, Ping leaves a lot to be desired.
We covered most of Ping's drawbacks in our first look at iTunes 10, but to recap: there's no way to get notified of new activity like new comments from friends or when your favorite artists post something new to their pages. Since Facebook Connect was short lived in iTunes 10, the only way you can add new friends right now is manually, by typing in their name or e-mail. How 2003.
Perhaps most importantly, Ping is only for music right now. You can't see when your friends buy a movie, rent a TV show, or splurge on a bunch of new iPhone games. You can't chat with friends on an iTunes Store Ping page about what happened in last night's Mad Men, and App Store developers still can't respond or offer customer support to the virtual tsunami of misguided or incendiary reviews of their apps.
In light of all the buzz around the App Store, video content, and social-everything right now, Ping is the most prepubescent product to come out of Apple since the original Apple TV. Of course, Apple is an iterative company, and social networking has proved to be a popular way to drive traffic and sales. You can bet that Apple will issue a stead flow of updates to Ping and, hopefully, spread it to the other types of media that the iTunes Store sells.
Other new features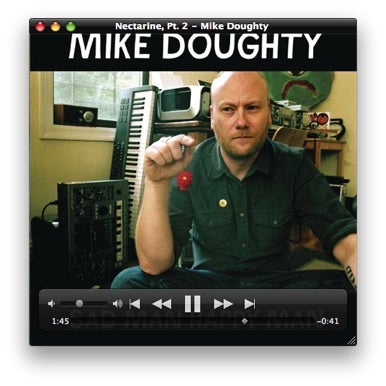 Ping gets the lion's share of attention in iTunes 10 right now, but there are some other interesting new features. Though pitched mostly for future owners of the new Apple TV, TV show rentals can be viewed in iTunes 10 or on an iPhone or iPod touch running iOS 4.1, which is due out this week. AirPlay is also an interesting new feature that will let iTunes stream music and video to new AirPlay-enabled speakers, receivers, and iPod accessories. It's an evolution of AirTunes, which previously allowed iTunes to stream music to speakers that were hooked up to an Apple TV or an AirPort Express. Now, Apple licensed this streaming tech in its new form to third-party manufactures, but we'll have to wait a little while for them to get AirPlay-enabled devices on store shelves.
If you click the album artwork patch in the lower-left to open said artwork in its own window, it now includes player controls when you mouse over it. This is a mildly useful feature that many third-party iTunes utilities highlight, so Apple's adoption of it is both a blessing for users and a curse for some utilities that may have to strike out a previously noteworthy feature.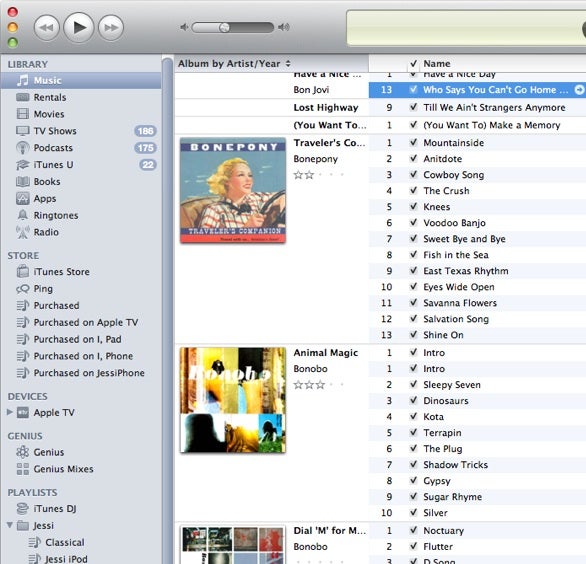 Other perks in iTunes 10 include a new "Album List" view that displays music album artwork more intelligently, and new preferences allow you to hide some features like the checkboxes next to media in list view and the icons next to items in the sidebar. When updating software on an iOS device, most of the upgrade process is now displayed as an in-line notification on the device's summary page—in the past this was a modal progress dialog that prevents you from controlling iTunes through the entire process. If you choose to restore your device from a backup, however, the second half of that process still presents modal dialogs, which makes me wonder if Apple didn't get to finish polishing this particular feature update before shipping.
iTunes 10 also received a performance boost that is noticeable even on my fairly new 27-inch Core i5 iMac with a library north of 770GB. iTunes starts up faster and the interface feels a bit snappier. I imagine (or, at least, hope) these improvements might be even more noticeable on older machines that can struggle under iTunes's growing heft.
Apple did remove some features from iTunes 10 revolving around ringtones. First introduced in iTunes 7.4, ringtones for the iPhone can no longer be bought from the store or created from your music; the option to display a ringtone column in your library has been removed, and the iTunes Store no longer displays a ringtone icon next to songs. Creating ringtones with third-party tools still seems to work.
Some users have reported a problem with iTunes 10 and music CDs, where CDs are not being recognized by the software. We tried several different CDs on several different Macs running iTunes 10, and we had no problems with the software reading the CDs and importing tracks.
Tossing interface darts
Another task that I am convinced Apple bumped up on one of its many to-do lists in recent years is "meddle with iTunes's interface in strange, borderline malicious ways," and iTunes 10 is no exception. Once again, various iTunes elements both big and small have been changed; many for the sake of change, but at the detriment of usability.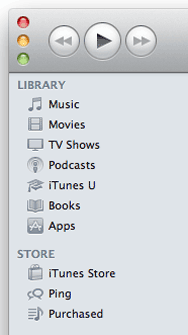 Probably the two most notable interface changes can be found in iTunes 10's window bar and sidebar. First, the buttons to close, minimize, and "best fit" iTunes (the red, yellow, and green orbs, respectively, that are horizontally laid out at the top left of virtually every window in Mac OS X) are now listed vertically down the upper left of the window. In a way, this is not a new layout for these buttons—for quite some time, they've shifted vertically when you use iTunes's Mini Player. But the Internet initially sounded a cry of horror upon seeing this change in iTunes 10, as if a million interface designers cried out and were suddenly silenced.
But I find myself liking this odd change—it allowed Apple to lop off around 20 wasted pixels of space from the top of iTunes and tighten up its toolbar. Now, some of its thinner elements, like the volume slider (which gained some girth in its own light redesign), view buttons, and search box no longer feel like they're swimming in a sea of gray metal. But this new button layout could be a violation of Apple's own interface guidelines for third-parties, so I hope developers don't take it as Apple's endorsement of using controlled substances while designing new interfaces.
Apple's second major interface change in iTunes 10 is that, for reasons that eluded me through this review process, it decided to suck the color out of iTunes's sidebar icons. Gone are the blue, green, and purple colors of icons like music, movies, iTunes Store, and Smart Playlists—they were washed away by the grey interface tides of the iOS moon that now revolves around Apple's design world. Even the buttons in the lower toolbar for things like new playlists or hiding the Genius sidebar got the iPad treatment. They shed any kind of standard Mac OS X button bezel or border in favor of bold, elemental forms. Now, simplified, more easily identifiable toolbar buttons are always a good thing. But in this case, stripping the color from the rest of iTunes's sidebar feels like Apple took the iPadification of its desktop apps too far.
Macworld's buying advice
iTunes 10 is a foundational update—less about major features that we can play with right away, and more about beginning construction on significant new avenues for the iTunes Store as an entertainment hub. That's not to say some of the new features aren't welcome or useful. Ping, at its core, is a great idea that I am eager to see spread to the rest of the store. Other new features like a smarter album list view and music controls in the album art popup—all while actually boosting performance—are nice to have as well.
Though less ambitious than previous years in terms of sheer new features, iTunes 10 is a solid update that will need to age like a fine wine to be truly appreciated. Once Ping gets a round or two of updates, the Apple TV 2.0 ships, and AirPlay appears in accessories, iTunes 10 may prove to be quite a useful update for those who want to use these features.
[David Charter is a Macworld associate editor.]
Updated at 2:38pm PT to clarify which ringtone features Apple removed in iTunes 10.
Note: When you purchase something after clicking links in our articles, we may earn a small commission. Read our affiliate link policy for more details.