The 64GB of storage space on the top-of-the-line iPad might be enough to appease most casual users, but those of us who routinely watch high-definition videos, or other disk-hogging media can blaze through that 64GB limit before lunchtime. Sanho's new HyperDrive, a hard drive specifically designed for the iPad, can help you get around the iPad's storage limits by letting you access video and photo files directly from the drive without the need of a computer.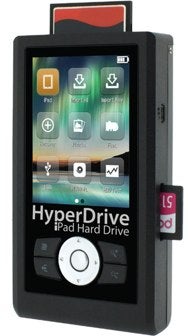 The HyperDrive is about the same size as a standard portable USB hard drive and features two card slots that support 12 different types of memory cards, and a 3.2-inch color LCD screen for photo-viewing and file management.
After you've loaded the HyperDrive with your media, you connect it to your iPad with a USB cable and an Apple iPad Camera Connection Kit. While the Camera Connection Kit traditionally allows you to connect your iPad to SD cards and self-powered USB devices, it also has a disk-size limit of 32GB, which makes it impossible to connect standard USB hard drives. The HyperDrive works around this limit by turning its individual file folders into virtual 32GB drives that are each separately readable by the iPad.
Once you've connected the HyperDrive to your iPad, you can use the HyperDrive's built-in LCD screen to select a folder you'd like to access and the folder contents will appear in the iPad's Photos app as if they were from a camera or regular SD card.
Since files can only be transfered onto an iPad through the Photos app, you'll only be able to use the HyperDrive to view iPad-compatible photos and videos. Another downside is the inability to transfer files from the iPad onto the HyperDrive—you can only get files onto the HyperDrive through standard computers or memory cards.
Despite these limitations, the HyperDrive could prove useful to travelers who want to carry more videos and photos than their iPads can store, as well as photographers or videographers who need a way to quickly back up their memory cards without having to tote around a laptop.
The HyperDrive runs on a replaceable lithium-ion battery, which Sanho claims can back up 250GB of data on a single charge, and is available now in 120GB ($299), 160GB ($349), 250GB ($399), 320GB ($449), 500GB ($499), 640GB ($549), and 750GB ($599) models.