Gameloft, a major player in the iOS game market, recently previewed a new first person shooter title for its fall lineup. Modern Combat 2: Black Pegasus, is a first person shooter and sequel to 2009's Modern Combat: Sandstorm. Modern Combat 2, like many of Gameloft's marquee titles, takes its "inspiration" from a popular console title. So you can see Modern Combat 2 as a stand-in for Modern Warfare 2 much in the way that Transmorphers is a stand-in for Transformers.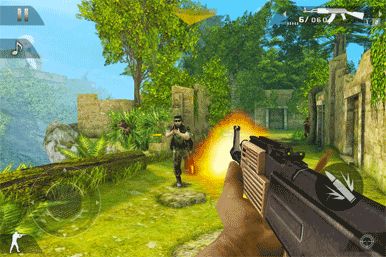 But that doesn't mean Modern Combat 2 won't be an excellent title on your mobile device. Gameloft is one of the few developers that seem to understand how to develop great looking games for the iPhone and Modern Combat 2's lush graphics take full advantage of the iPhone 4's retina display. MC2 will feature three different theaters of war including the Middle-East, South America and Eastern Europe. Instead of ten missions, like in the original, Modern Combat 2 will offer a longer, twelve-mission campaign that should take a little over four hours to compete.
Modern Combat 2 also utilizes the iPhone 4's gyroscope control mechanism, enabling a full three dimensions of movement for your iPhone. During the demonstration, I found the gyroscope controls take some getting used to. While more exact a control than the touch and better for fluid movement, beginner players may prefer the conventional drag and tap control scheme that is also available.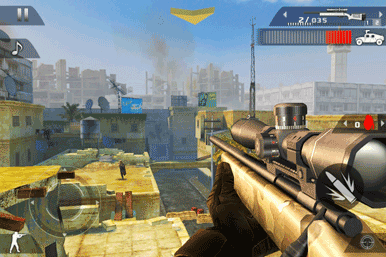 There were three levels that Gameloft was ready to reveal. The first, set in the South American jungle, sees the player character awaken after being captured and tortured. An ally helps him break out of prison and the two begin to fight through some Aztec-like ruins on their way to an extraction point. Gameloft has clearly put the iPhone's retina display to good use as the palm trees and character models look more detailed. The enemy AI also showed improved behavior by taking cover behind the stone blocks during firefights. If I had to point to an area of improvement, I'd say that the death animations for the enemies is still very predictable and doesn't feel organic. The explosions, similarly, don't seem to have as much impact on the environment as you'd like to see (no gunpowder marks or signs of damage, for example).
The next mission saw the player in a middle-eastern setting helping to escort an allied humvee. Initially the mission takes place in close quarters, with intense melee combat. Again, the enemies behaved rather stiffly, but the weapon recoil and sounds were quite impressive. After reaching the rooftops, the player acquires a sniper rifle and begins to take out enemy positions. The map is much larger and the mission more varied than anything we've seen in the series so far.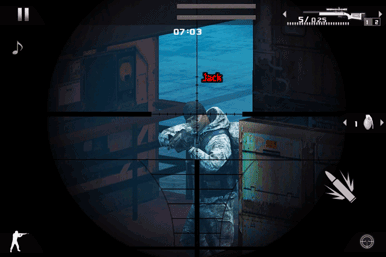 Finally, the last mission saw the player in a snow-covered Eastern European theater. The initial objective was to remain unseen and take out some guards as you made your way to a rendezvous—very similar to several missions in the Modern Warfare series—but after taking out the first pair the mission devolved into your standard run and gun formula. I only was able to play each mission for a few minutes, so there may be more opportunity for stealth or other gameplay elements in some of the missions I didn't play. You don't see too many mobile shooters with stealth components, but if there's a company that can address that need, it's Gameloft.
MC2 will offer fifteen weapons, three characters, and three multiplayer modes all through Gameloft Live. So far, Gameloft hasn't confirmed whether Apple's Game Center service will be compatible with the title. Look for the game in the coming weeks in the App Store.