Editor's Note: The following article is reprinted from Macworld UK. Visit Macworld UK's blog page for the latest Mac news from across the Atlantic.
Apple-owned FileMaker has announced the availability of Bento 3 Project Manager, a new set of templates that aim to make it easy for Mac users to track their personal projects and manage their time within the Bento database application.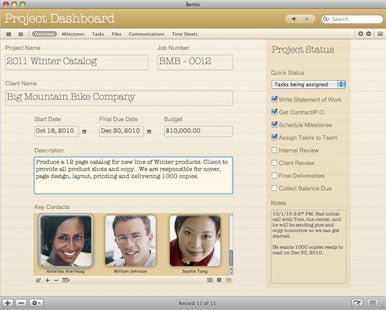 Templates in the Bento 3 Project Manager include Project Dashboard, which offers forms for project overview, milestones, tasks, communications, related files such as photos and presentations, and time sheets. Time Sheets, meanwhile, comes with predefined Smart Collections for hours billed, hours to be billed, and amounts due. All information can be located using iTunes-style searching in Bento, FileMaker adds.
The Bento 3 Project Manager also works with Bento for iPad and Bento for iPhone, and links with iCal Tasks and iCal Events, providing a central hub of information to stay more organized, on schedule and on task, according to the company.
Bento 3 Project Manager works with the latest version of Bento, which costs $49. FileMaker offers a free 30-day trial for Bento 3.