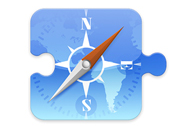 On Tuesday Apple issued minor updates to its Safari Web browser with "improvements to compatibility and security": Safari 5.0.2 for Leopard and Snow Leopard (OS X 10.5.8 or later) or Windows (XP, Vista, and 7) and Safari 4.1.2 for Tiger (OS X 10.4.11).
Safari 5.0.2 address three areas: It fixes an issue that could prevent users from submitting Web forms; it fixes an issue that could cause Web content to display incorrectly when viewing a Google Image result with Flash 10.1 installed; and it establishes an encrypted, authenticated connection to the Safari Extensions Gallery. The Safari 4.1.2 update only addresses the Web form submission issue.
You can download the updates via OS X's Software Update mechanism, and Apple has a page explaining the security content of the updates on its site now.
And as usual, the Safari update require you to restart your computer when you're done installing it.